Real-life meteorologist Andy Horvitz from the National Oceanic and Atmospheric Administration and the National Weather Service (NOAA/NWS) learned about our #SaveScience initiative earlier this month and was excited to encourage children to become more engaged in studying the weather.  His blog is below.
—————————–
Although there were no opportunities to take meteorology courses through high school, weather always fascinated me.  I remember at age 7 or 8 looking up at the cumulus clouds in the sky on a beautiful summer day.  I was fascinated by the way they moved, grew, disappeared and changed shapes.  I found weather fascinating, especially the frequent changes, both in the short term from near instantaneous changes to the longer term seasonal changes. Additionally, it was always exciting to try and anticipate what would happen next.  Today's students have an excellent opportunity to learn about the environment that is a real part of their lives every day and projections into their future!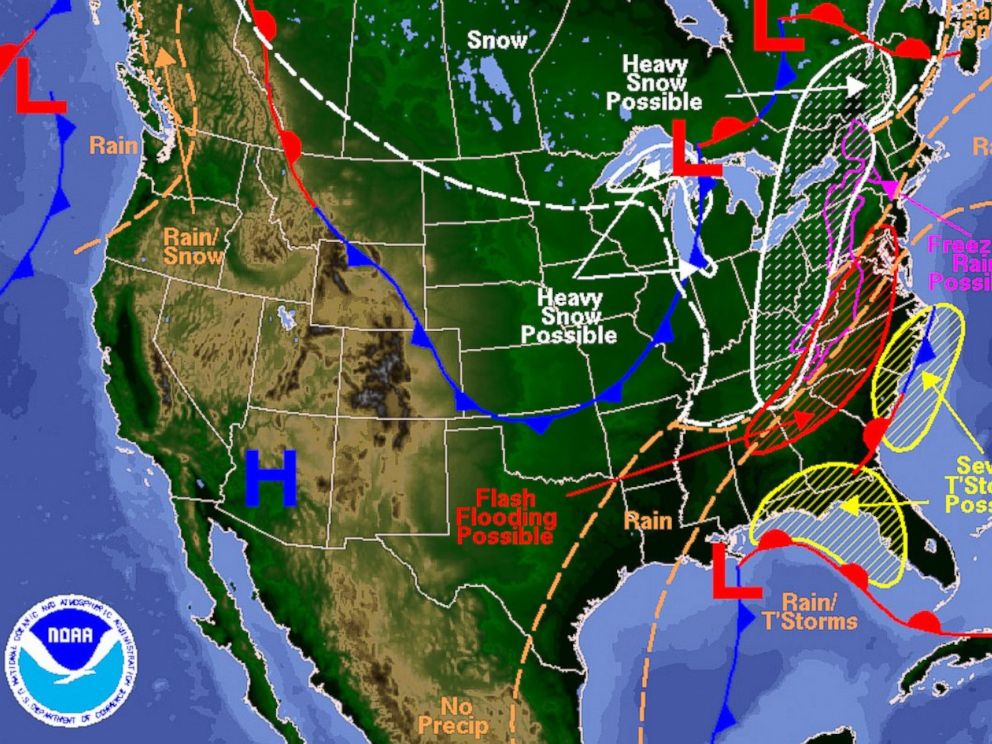 I also observed how weather plays such as important role in everyday lives. For instance, in the summer, was it going to rain while I was playing outside?  In the winter, was it going to be a large snowstorm or would the precipitation change to rain?   The weather is a fantastic way to involve children with science as weather is all encompassing, from the middle and upper atmosphere to the depths of our oceans.
There's a lot of interesting news and current events in meteorology and climate science and it's great when more students are engaged and become knowledgeable about weather and climate.  We need more inquisitive and innovative young people entering the field, learning, sharing and moving our understanding of the world scientifically forward.
So, in honor of National STEM Day, and to involve students interested in the weather, I'd like to challenge students across the country to start collecting and analyzing daily weather data. Then, using historic data from your area, as well as trend data from the current month, let's see if your class can accurately predict what the weather will be on Thanksgiving Day!   Thanksgiving and the surrounding days are big for travel, and weather can have a significant impact on whether you arrive early, late or on-time.  Travelers across the country want to know the quickest and safest times to drive, fly or take public transportation will be, so an accurate Thanksgiving weather forecast is really important work!
Email your class's predictions to Alison Risso by 11/26, noon ET, and the classes with the closest local predictions will be showcased on the blog and social media.
Estimate both the temperature and precipitation (rain and snowfall).  I'm including some tips below, as well as some links to other data collection projects you can use to involve your students to become engaged all year long.  Good luck!
Using Weather to promote Math skills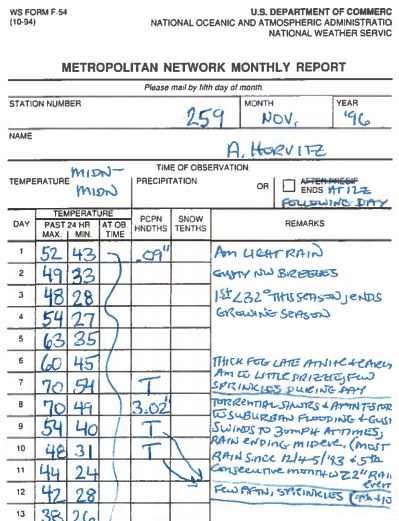 In 1970, I started keeping a daily weather diary, and that actually helped me learn to love statistics, because I used my daily weather diary to calculate monthly and yearly normal where you live.   It's more meaningful for students to use their own numbers, but if you'd like to extend their practice further, check out this daily log of official records from White Oak, MD. as an example. Please select a day or a month and see how this time frame compares to the average weather from that same period in past years.   You can also learn more about historic monthly weather trends with publications like PRESTO (monthly climate summary for the Baltimore/Washington area).  For the Thanksgiving Challenge above, you could use local historic documents like local climate data for the NWS Forecast Office in Sterling, VA  and check out weather.gov for more recent information.
Practicing Measuring Skills
When measuring rainfall, remember to make sure the gauge is away from structures and trees, to avoid unrepresentative data due to wind and obstructions. The same practice should be followed for thermometers to ensure representative locations will provide more accurate readings.  For the Thanksgiving Challenge, you'll want to follow similar practices meteorologists adhere to ensure your observations are consistent with official records.  To explore additional options, you can place the thermometers and rain gauges in different environments to compare your differences which would result in an interesting lesson as well.  For example, two thermometers can be in the same general area but perhaps at different heights and could result in very different readings.  Why would this occur?
If there's a chance of snow, for an official measurement, you'll need a board and a yardstick, and you can only measure every 6 hours (or after the snow stops falling)  to allow for compaction.    Please make sure the snowboard is away from structures. You will need to take several measurements, especially with blowing and drifting snow. Then you can take an average of all your measurements to create a representative total at your location.
I look forward to seeing what data you gather and what predictions you make!
In the future, you can also check out the following weather-related Citizen Science apps and then ask your students to become involved in national weather data collection projects.  This data is very valuable, as sharing scientific data can demonstrate trends and changes to weather patterns that will impact our changing environment.
Citizen Science apps
Help improve weather forecasting using the mPING (Meteorological Phenomena Identification Near the Ground) app, where citizen scientists can report the type of precipitation they are experiencing.
Also, the Community Collaborative Rain, Hail, and Snow (CoCoRaHS) Network is a  group of volunteer observers who measure precipitation from their backyards in all 50 states.  Please see if your students would like to participate!
Additional NOAA/NWS resources that students might like include: