We are so pleased to have our word profiled in Childhood Education Innovations.  This is an academic publication by a group called the Association for Childhood Education International.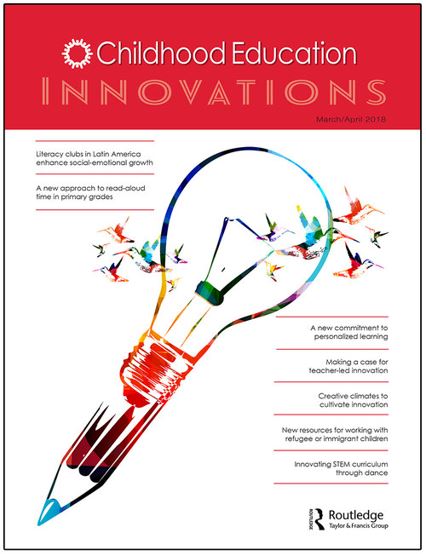 This is an Accepted Manuscript of an article published by Taylor & Francis in Childhood Education: Innovations on 20 March 2018, available online: https://www.tandfonline.com/doi/full/10.1080/00094056.2018.1451690
Growing Experiential Learning for the Future: REAL School Gardens
The new 4th grader, Camila, was very quiet. She scored in the lowest quartile on her standardized tests, and didn't engage much with anything or anyone, often simply staring out the window.
A change occurred for Camila, however, when her teachers started working with REAL School Gardens, taking her class outside to learn concepts through hands-on experiential lessons. "She became a different child," one teacher marveled. "She loved everything about the learning garden. Her confidence surged."
Full of life, the outdoor classroom sparked Camila's curiosity. Her teacher said, "She relished the opportunity to explore outside, asking and answering questions about every subject. And she understood difficult concepts behind the lessons because she observed them in the real world, seeing firsthand what things meant and why they mattered. She wasn't understanding the concepts of angles at first, but once we did an exercise on which way to point solar panels, it clicked."
After using the outdoor classroom regularly, Camila blossomed into a confident and deeply engaged student, working her way up from Ds to Bs and passing all of her standardized tests. Real stories such as Camila's demonstrate how experiential learning, when connected to a simple real-world setting, can alter the trajectory of a child's education.
Giving All Students a "REAL" Education
Too many children in low-income schools spend the day feeling disengaged, listening to too many lectures and spending too much time looking at screens or performing repetitive tasks. When overused, those teaching methods erode opportunities to build the strong foundational understanding needed for future success and the long-term love of learning that fuels successful students and teachers alike.
Hands-on experiential lessons are one way to help keep children excited about school and more engaged in their lessons. Children also love being surrounded by a rich and dynamic learning environment. Yet many teachers, especially those in low-income schools, lack the tools and training they need to give students hands-on lessons in an enriching environment.
Since 2007, REAL School Gardens has pioneered a simple way for low-income elementary schools to implement effective real-world, experiential learning programs. REAL School Gardens partners with low-income schools to spend years training teachers how to lead effective experiential lessons outdoors in every subject. Math, science, and language arts are all more meaningful and memorable when conducted outdoors in an engaging, hands-on way.
Because many low-income schools lack a useable learning garden, REAL School Gardens also secures corporate funders and works with their employee volunteers to transform outdoor spaces into dynamic living classrooms in just one day.
Why Experiential Learning Works
REAL School Gardens focuses on experiential learning because it's been shown to effectively reduce the achievement gap. Experiential learning can increase both teacher effectiveness and student engagement, two of the largest school-based determinants in long-term student success.
Experiential learning (also called problem or project-based learning, or inquiry-based learning) helps increase achievement for all students, regardless of their background. It also can improve social-emotional skills and help build "21st-century skills," such as critical thinking, collaboration, creativity, and communication. Not only do most students prefer experiential learning to more common book-based styles of teaching, teachers find that experiential learning also helps the students better understand more complex material, use their knowledge to solve different sorts of problems, and apply that knowledge in new contexts. This is the sort of genuine, deep, and long-lasting learning children need to succeed in school and in life.
Once properly trained, teachers in the REAL School Gardens Professional Learning Program embrace experiential learning because they see that their students understand the material more quickly, and they spend less time dealing with behavior issues. One teacher even commented, "The students you struggle with most in the classroom are excellent leaders in the outdoor classroom." By learning how to feed students' inherent curiosity, teachers spend less time trying to push disinterested kids to learn or trying to redirect bored disruptive students. With those two challenges addressed, teachers are able to put their energy into supporting students based on their individual needs.
Why Take Learning Outdoors?
An outdoor classroom can be a powerful instructional tool because it harnesses children's curiosity about the natural world. Children are born explorers, and the natural world is an endlessly rich and physical experience where children can use all their senses to investigate. It is also an accessible and engaging place where children are permitted to touch the things that interest them. The outdoors is highly dynamic; there's always something new happening, and children can see firsthand how things grow and change over time.
Because of the sheer volume of information and learning opportunities present in the outdoors, teachers report that returning to the same outdoor space for different classes enables cross-curricular learning. The data children collect for a science lesson can easily be used during math to calculate growth rates or patterns; the attributes children noticed in a language arts lesson can be valuable in a future science lesson on adaptive traits.
Learning outdoors instantly imbues lessons with relevance, purpose, and real-world meaning. Children appreciate lessons clearly grounded in their everyday reality, and love having a job to do. If children decide to plant carrots and radishes, they're eager to get to work and figure out how to divide up the vegetable bed. This mathematical task is much more meaningful and compelling than mentally dividing pieces of an imaginary pie. Unlike their experiences in a school's computer or chemistry lab, all children can easily reference previous outdoor experiences. Also, they have access to the outdoors outside of school, effectively connecting what they learn at school with the rest of their lives.
Since most schools have underutilized outdoor space, adding a few teacher-friendly features can quickly activate that area for academics. And compared to the time, cost, and paperwork involved in adding new indoor space to a school, outdoor classrooms are quick, easy, and inexpensive to construct. Paired together, experiential lessons in an outdoor classroom can be a teacher's most powerful tool.
Effective Experiential Learning in the REAL World.
When we think of "outdoor education," we often envision nature hikes. While a nature hike is a worthwhile activity, it is not necessarily aligned to the standards teachers need to address. Furthermore, most trails or parks are too far away to be of daily use to teachers. To help teachers harness children's curiosity about the natural world and use that intrinsic drive to support measurable academic gains, REAL School Gardens' highly experienced Instructional Coaches train teachers how to keep students interested and engaged in learning with experiential lessons in convenient outdoor environments, such as a garden just outside the classroom.  REAL School Gardens Instructional Coaches have on average 18 years of classroom experience as well as a Master's in Teaching.
Experiential Lessons With the 5E Model
All REAL School Gardens lessons are aligned to each district's scope and sequence and follow the "5E" instructional model, which is designed to boost student engagement and long-term understanding, especially in science. The 5E model flips the more common classroom structure, in which a teacher lectures on a subject, and models how students should do a new task. Following a more constructivist approach, the teacher gives students a question to answer, allow students to explore, then uses the students' own findings to explain the concept, empowering students to deepen their understanding in math, science, and language arts.
Math
In a standard lesson on area, children sit at their desks and look at a piece of paper where two-dimensional rectangles already have pretend lengths and widths attributed to them. Or they simply count out the boxes within rectangles drawn on graph paper. They'll eventually be able to produce the correct answers following this approach, but will likely struggle as the tasks become more abstract, more complex, and they need to build on calculating area as foundational knowledge.
In an experiential outdoor area lesson, REAL School Gardens' Instructional Coaches start by telling children it is time to plant the vegetable beds outside. With a real job to do, children eagerly flex their spatial reasoning, moving around in a three-dimensional space to measure the beds themselves. Then, using different multiplication algorithms to calculate the area, children gain a deep, real, and lasting understanding of the concept.
Language Arts
Experiential learning outdoors also shows benefits for subjects such as language arts.  Often, students will read an information text, such as one describing erosion or ecosystems.  Then the students will go outside to look for real-world examples and use that to prove or disprove what they've read. Instructional Coaches say a favorite lesson is to have each student pick a particular leaf, and then write down as many relevant descriptors as they can. After the students place all the leaves in a pile, the teacher picks out written descriptions one at a time and, reading them aloud, works to match the descriptions to a particular leaf. Students see firsthand the value of enhanced descriptions, as the teachers easily match the leaves to their owners using the students' descriptions. They also learn about different types of descriptive language, such as adjectives and similes.
Science
Teachers particularly appreciate using the outdoor classroom as a living laboratory to support elementary science instruction. While the outdoors is a perfect staging area for explorations and experiments around the life-cycles of plants and animals, the weather, energy, or the environment, many elementary teachers lack an extensive scientific background. So in addition to demonstrating how to use the outdoor classroom to support experiential science lessons, REAL School Gardens' Instructional Coaches focus on increasing teachers' scientific content knowledge, instructional confidence, and daily practice.
Also, by weaving basic science background knowledge into other subjects, REAL School Gardens helps increase the total volume of instruction students receive, building a strong foundation of scientific understanding in elementary school. For example, the math lesson mentioned before can easily address plants' reproductive cycles, and the language arts lesson could begin a conversation on the food chain if students notice their leaves have been eaten.
Personalizing Any Lesson
Locating lessons in the real-world also enables teachers to use certain personalized learning techniques. Students will naturally gravitate toward things they're curious about, fueling their drive to learn more. REAL School Gardens lesson plans have built-in methods of differentiation, allowing teachers to add challenges for more advanced students, while increasing supports for those struggling with a concept. This ability to adjust instruction within a lesson ensures that children on either end of the mastery spectrum remain engaged while still gaining the benefits of working as a group.
The Need for Effective Teacher Professional Development
Why aren't teachers leading more experiential lessons outdoors? Simply put, they lack the tools and the training to do so. Experiential outdoor instruction fundamentally changes both where and how they teach. Teachers are under a great deal of pressure to demonstrate that their children are learning the required material in the designated time. Therefore, they approach any additional work, or any perceived loss in instructional time, with caution. To show teachers first-hand the effectiveness of experiential outdoor instruction, REAL School Gardens provides high-quality professional development, useful spaces, and ongoing support.
Often, teachers don't look forward to professional development sessions. They are most likely to dreaded the ones that require them to sit in large groups for days, watching slideshows that may or may not apply to their day-to-day instructional needs. This format makes any real improvements to instructional practice difficult to implement.
REAL School Gardens works to empower teachers through a 2+ year professional learning program, using both groups sessions and one-on-one instructional coaching to help teachers use the outdoor classroom to engage students in experiential lessons that deepen understanding and accelerate learning. Group training sessions to demonstrate the more universal outdoor instructional teaching techniques are conducted on-site in the outdoor classroom, divided out by subject and grade level.
Then, ongoing one-on-one instructional coaching sessions take place during class, where instructional coaches work side-by-side with teachers and their students to demonstrate best practices and support teachers to develop and lead their own lessons. Sessions are customized to each teacher and matched to their established curriculum to ensure teachers aren't being asked to do anything extra or redundant. Because the Instructional Coaches are "meeting teachers where they are," both literally and figuratively, teachers report that they can effectively and immediately implement the new teaching strategies.
Building Effective Outdoor Classrooms
While engaging experiential lessons are highly effective in any location, we've seen their impact is particularly impressive when employed outside in a natural environment. Since many schools lack engaging and accessible outdoor environments of their own, however, REAL School Gardens often has to build them.
To make it as easy as possible for teachers to take lessons outside, the learning gardens REAL School Gardens builds are true outdoor classrooms, with paved pathways and gathering areas, pavilions to provide shade, seating areas, and white boards. These features help teachers conduct class and remind students that they are in a learning environment, not a playground. A well-equipped learning garden becomes an integral part of the school, as important to academic success as a library.
Additional learning garden features support a range of academic lessons. Waterfalls and rain barrels help children understand the water cycle and calculate volume. Animal habitats support lessons on life-cycles, evolutionary adaptations, and even different forms of energy. Specialized sandboxes and construction areas are used as earth science stations where students create and shape different landforms. Weather monitoring stations allow students to study the weather for science and track data trends for math, while teachers are also able to connect that information to larger lessons on geography. Organic vegetable, herb, and perennial beds support a multitude of lessons on measurement, area, volume, division, and fractions, while teaching children about nutrition and getting them excited to make healthier choices. Throughout all these lessons, children also build an awareness of and connection to the environment; taking care of the garden helps support environmental education goals.
REAL Results
As teachers become more effective when using the outdoors as an instructional tool, students gain critical thinking skills, solve real-world problems, and make cross-curricular connections. When student engagement increases, class time becomes more productive, creating a more satisfying work environment for teachers.
Ongoing studies by PEER Associates show that teachers in the REAL School Gardens training program become measurably more effective. Teacher effectiveness and job satisfaction increase 50% over the course of the professional learning program, posting gains after each professional learning session. Almost all teachers, 94%, report that their students are more engaged with our lessons, and that includes "specials" instructors, such as physical education and music, who use the learning garden less frequently for instruction. School district data show that standardized test proficiency rates in schools that completed the REAL School Gardens program increased by 12-15%, with the highest gains in science. Regression analysis isolating the REAL School Gardens program impact attributes 1/3 of that growth to the program.
Conclusion
All children deserve hands-on, experiential learning opportunities. School districts would do well to invest in effective and inexpensive solutions that work for teachers, students, and facilities. By providing high-quality instructional coaching in experiential outdoor learning, and turning unused outdoor spaces into functional outdoor classrooms, districts can quickly give students of all backgrounds a stronger foundation of content knowledge to help them succeed in school and in life.