Corporate Partnerships that work together
The Out Teach corporate partnership model is 100% customized to help our partners
address their unique business needs while helping students and teachers be their best.
Out Teach works with partners to leverage our programs for a variety of activities, including:
— Employee and executive engagement
— Public relations and paid media content production
— Government affairs programs
— Cause marketing campaigns
Each program is a strategic team effort that supports communities like Charlotte's West Mecklenburg neighborhood as a focal point. Hear more about how it comes together from Principal Anthony Calloway.
Employee Engagement
Mercedes-Benz Financial Services has made Out Teach a go-to provider to help execute its annual Week of Caring volunteer program.
Objectives:
— Deliver 10 turn-key anchor events across Dallas-Fort Worth for Mercedes-Benz Financial Services' annual Week of Caring volunteerism campaign.
— Align with a non-profit that has deep local impact where employees live and work.
Partnership Activation:
— Out Teach's signature Big Dig partnership program provided customized account service for all project needs – dedicated account management, recruiting support and electronic registration, event hospitality, materials and supplies, training, etc.
— Out Teach leveraged strong school relationships and to identify locations a series of Big Dig events that aligned with Mercedes-Benz's timeline.
— Over 1,000+ employees were engaged during 10 Week of Caring events managed, planned and executed by Out Teach.
— 95% of employees rated their experience at each Out Teach event as "Excellent" in their internal employee satisfaction surveys.
. . . . . . . . . . . . . . . . . . . . . . . . . . . . . . . . .
"Out Teach does volunteerism right.  Their projects are always a highlight of our Week of Caring.  The team always leaves fulfilled, knowing that the lasting contribution to the schools we support makes a real difference for teachers and students."
– Greg Ruvolo
Manager, Community Relations & Digital Media
Executive Engagement
Hilton needed a way to highlight the commitment of its CEO and Executive Leadership to its signature global giving campaign. Out Teach used social media to make it happen.
Objectives:
— Create a signature volunteer event in the company headquarters market to support internal CSR campaign, "Hilton Global Month of Service."
— Increase social engagement across Hilton properties.
— Engage Hiltons' Executive team in meaningful service activities with local students.
Partnership Activation:
— Hilton leveraged a Big Dig sponsorship close to their headquarters in Maryland to capture original content for storytelling across social, PR and internal channels.
— Out Teach liaised with school administrators to assemble a panel of students to conduct a Facebook Live interview with Hilton's CEO, which was broadcast across Hilton properties' Facebook pages during the Big Dig event.
— 10 members of Hilton's Executive Team were engaged in project design events in addition to serving as Team Captains for group projects at the Big Dig alongside 180 additional employee volunteers.
. . . . . . . . . . . . . . . . . . . . . . . . . . . . . . . . . . . .
"Out Teach organized a fantastic partnership for our team to work alongside students to design and build a learning lab they can enjoy for years to come. I agree with many of our Team Members who said this is the best community partnership we've ever undertaken."
– Chris Nassetta
CEO
PR and Marketing
Target selected Out Teach to work with an agency and network broadcasters to develop and produce PSAs to run as part of a paid media blitz on CBS and Univision morning shows.
Objective:
— Generate positive PR using an Out Teach-focused television campaign to support Target's new CSR strategy in a priority market.
Partnership Activation:
— Target leveraged its on-going partnership with Out Teach to produce original content for both English-language and Spanish-language television morning shows.
— Out Teach worked with film crews and on-air talent to coordinate the shoot location, interview subjects, media releases and message training for teachers, students and Target staff.
— Thirty-second and one-minute segments were produced and ran as part of month-long paid advertising campaigns on Dallas-area television morning shows.
. . . . . . . . . . . . . . . . . . . . . . . . . . . . . . . .
"Out Teach is an organization that provides a high-level of service that meets a wide-range of our objectives. They are a partner who takes the time to understand and plug into our strategies to add value to how we engage the community."
-Elisa Juarez National CSR Manager
Government Relations
A Farm-to-Table breakfast event provided the perfect setting to announce the latest round of program grantees to elected officials and local influencers.
Objective:
— Promote community investments by Duke Energy and Piedmont Natural Gas to elected officials, community officials and other influencers.
Partnership Activation:
— Out Teach partnered with local celebrity chefs to produce a Farm-to-Table breakfast for more than 100 guests, featuring remarks from Duke Energy leaders and student/teacher program participants.
— Duke Energy leveraged the event to secure coverage from 5 print and television outlets to announce the Foundation's new grantmaking initiative.
— A "How-To" family gardening activity feature was developed for the company's Illuminate platform and distributed to all Duke Energy customers and employees.
— A media follow-up generated a feature for a local radio interview program to commemorate Martin Luther King Jr. Day and the Out Teach program impact in the African-American community.
. . . . . . . . . . . . . . . . . . . . . . . . . . . . . . . . . . . . . . . .
"The attention to detail on partnership execution is what sets Out Teach apart.  The planning process helped us formulate a successful strategy to promote our partnership, including a signature volunteer event that engaged local elected officials and community leaders, as well as a feature story and video for our brand journalism site and customer communications."
– Dominique Johnson
Duke Energy Foundation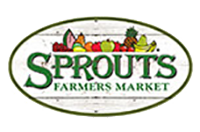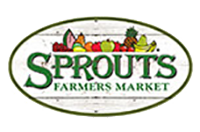 Cause Marketing
When the Sprouts Healthy Communities Foundation need collateral and messaging to launch its first-ever in-store "Round Up" campaign, it turned to Out Teach.
Objectives:
— Communicate the launch of the Sprouts Healthy Community Foundation to Sprouts' customers.
— Pilot a point of sale marketing campaign to fund the Sprouts Healthy Communities Foundation through customer donations.
Partnership Activation:
— Out Teach partnered with Sprouts to create point-of-sale visual collaterals and messaging for cashiers to launch its first company-wide, in-store cause marketing campaign.
— More than $200,000 was raised from customers at check-out during a one-week Round Up campaign.
— The success of the pilot program has led to twice yearly implementation, with annual growth of 10-20%.
. . . . . . . . . . . . . . . . . . . . . . . . . . . . . . .
"The new Out Teach brand has continued where REAL School Gardens left off. It provides a clear set of pillars and promises that allow us to convey how our foundation is making a difference in the communities we serve."
– Lyndsey Waugh
Executive Director,
Sprouts Healthy Communities Foundation
Are you ready to help us go outside expectations?
Contact Mallory Moler (mmoler@out-teach.org) for pricing details and ideas about how your company can make a difference.
Are you ready to help us go outside expectations?
Contact Mallory Moler (mmoler@out-teach.org) for pricing details and ideas about how your company can make a difference.