Posted by: Alison R.
Tuesday, January 15, 2013
Saturday was my first "Big Dig" with REAL School Gardens. Those are the days where we join our partners to create a learning garden at a low income school. It was cold. It was rainy. It was muddy. And I loved it.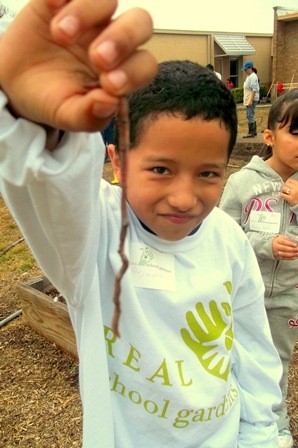 As the new marketing and communications director, I was there to get a sense of how these community-powered events work. I was also getting some fresh photos for the website. To get these pictures, I asked one of our educators, Eric Vanderbeck (a.k.a. Mr. V), to do some of his hands-on lessons with 12 kids whose parents had signed special clearance forms. So that we could tell these kids apart from the kids whose parents hadn't signed the forms, I put them in white REAL School Gardens tee shirts. That way, the photographer and I would know at a glance which kids were okay to take pictures of and which ones weren't.
But when Mr. V began his lesson, the other kids on the site kept crowding in to see what was going on. They wanted to see the larval June Bug Mr. V had found and diagram it with the other kids. They wanted to know how much dirt a worm made every day. They wanted to measure the tree stumps and dig into the dirt and figure out what was eating holes in the cabbages. They all jostled together to look at the temperature gauge in the compost bin.
They peppered Mr. V with questions.
"Why is the compost hot?"
"When will the June bug get his wings?"
"Which end of the worm is its mouth?"
Remember now, it was Saturday and these kids are at school. They're outside in the cold, in the rain, in the mud. Yet they were drawn to Mr. V like he had some kind of gravitational pull. And he did. Because inside every child, there is an inborn fascination with the natural world. Kids want to dig in the dirt and find bugs and build things out of sticks and rocks and smell the leaves. Kids need to be outside, even in the wind and the cold and the rain. Kids crave information about the world around them. And they kept ruining my photo op to get it.
The PR person in me pulled my "cleared" kids aside for photos twice before the educator in me put her foot down. Every child on that site wanted to learn that day, and I wasn't going to deny them that opportunity so I could get my precious pictures. Not more than twice at least.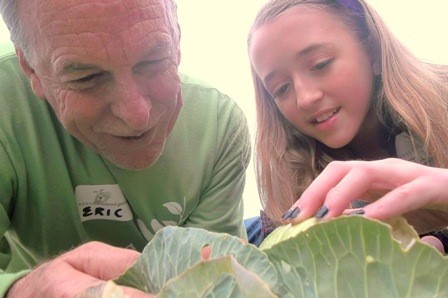 In the end, I got the photos I needed, along with a clear "picture" of the impact of the work REAL School Gardens does with thousands of teachers and students every day. It is meaningful, impactful and beautiful and I'm proud to have joined the team. I hope you can join me at our next, hopefully warmer and dryer, Big Dig to see what we're all about. Our next Big Dig is February 23rd in Dallas, see our events page for more information.