Posted by: Alison Risso
Thursday, March 20, 2014
I am a bilingual first grade teacher, my students are Hispanic and I love them.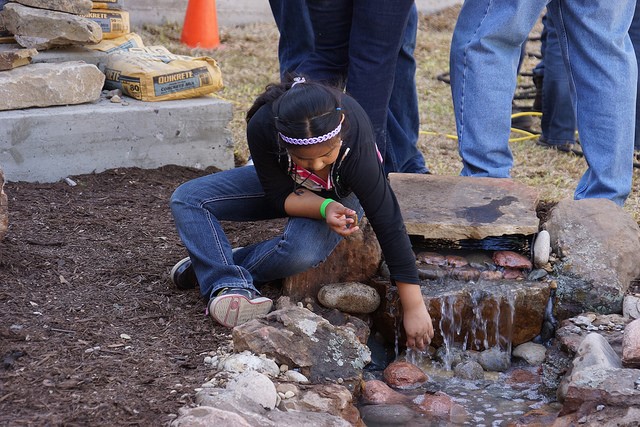 Every day is a challenge for me. I have economically disadvantaged students that struggle with psychological problems and health issues.
I need to be creative to teach them and not just give them information or explain a concept.
Fortunately I have tools to teach in my classroom such as manipulatives, notebooks, books and technology.
I cannot complain about resources, but I was missing an important element, nature.
Luckily, several months ago, Ms. Birdsong presented the garden project to us and I was really excited.
Several years ago I had read that Waldorf schools in Germany use it as a teaching resource.
I was eager to incorporate the garden as a part of my four subjects lesson plans.
When the garden was ready, I decided to take my tier 3 students (low-performing students) to the garden, during my tutoring time.
In this group are my most beloved students, since they are my teachers. I've had to study a lot in order to teach them and understand their needs.
That day I had one special student with me. I'll call her "Star" for this blog. Star has trouble paying attention, and with speech and comprehension. A couple of people have been helping me with her.
So far she could not read. I had tried almost everything. I was hopeless, but ended when she played with sand in the garden and put her hands in the water.
She wrote with her finger letters. She sat next to the water and listened to its sound. She was relaxed and had fun.
Suddenly something happened in her brain and soul. The next day she started to read simple words. I felt like I'd won a small battle.
Now these students ask me to take them to this wonderful place where they feel safe and happy.
For all of these reasons I strongly believe this garden will keep the students wanting to come to school just to see what interesting things they will explore and discover each day.
I guess students learn best when they are in control of their learning because real learning requires doing, not listening or observing only.
Thanks for this amazing garden!
Sincerely,
Ms. Ontiveros