Posted by: Jeanne McCarty
Thursday, December 11, 2014
Last week, the White House honored REAL School Gardens' work in low-income schools by inviting us to a higher education summit on how to help low-income students get to and through college. President Obama, the First Lady, Vice President Biden, and hundreds of college presidents and higher education leaders were all there to discuss best strategies to increase the number of children from low-income families who make it to college and earn a degree, especially in STEM fields.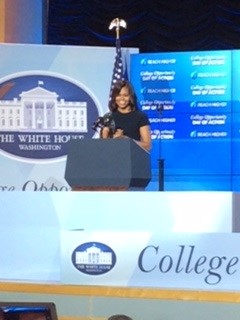 Once I was there, I discovered we were one of only two education programs there that solely focused on elementary schools and the only program using the outdoors as a teaching tool. What an honor to have the White House acknowledge REAL School Garden's success in harnessing children's natural curiosity early on through active, hands-on learning! Though it might seem strange to be surrounded by university presidents, we were invited because our significant contributions to the K-16 pipeline produce STEM degrees for students from low-income families. scuss best strategies to increase the number of children from low-income families who make it to college and earn a degree, especially in STEM fields.
In particular, I liked hearing how active learning is increasingly becoming a strategy for teaching Science and Math in higher education. Active learning is a powerful teaching strategy for all students, especially in inquiry-based subject such as Science. Using active learning to bolster STEM education is also an effective inclusion strategy, because it empowers under-represented students such as women, African Americans, Hispanics, and students from low-income families to navigate around perceived barriers and work through inevitable challenges. Interestingly, right after the summit, the Atlantic published an article on active learning and how the practice impacts minorities in the field.
Most of the educators there agreed that it's important to use active learning to widen the reach of STEM programs in high schools and colleges to effectively increase the number of future students studying STEM subjects. But we must also invest in using active learning to build the STEM "pipeline" all the way into elementary schools, especially those in low-income neighborhoods.
Research has shown that once children become adolescents, they've already decided whether or not they're good at Science and Math, and that becomes a self-fulfilling prophecy. Teens who don't think of themselves as a "Math person" or a "Science person" will stop trying in those subjects because they think it's futile.
I believe that as a nation, we'll get a better return on our investment (i.e. more kids of all races, incomes, and genders pursuing STEM careers) if we keep young kids engaged in STEM, rather than trying to convince a few older kids to give it another try. And I'm not alone in my desire to start this process earlier, check out these articles:
• Trying to get kids engaged in STEM in high school is too late.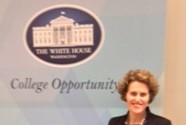 • How Late is Too Late to Encourage Careers in STEM?
REAL School Gardens was founded on using active learning to teach STEM and other subjects in a hands-on outdoor environment. We do this by installing dynamic outdoor classrooms and learning gardens in low-income elementary schools, and then we spend years training teachers how to use these living laboratories for hands-on REAL world instruction. Children learn all subjects better in this engaging and effective way. These teaching methods help children understand that Math and Science not only matter, but that they're interesting and exciting studies that everyone can embrace and pursue. In fact, we even have kids call one another "Doctor," just to root in them the idea that they are all able to achieve an advanced degree.
I was so pleased to be included in this important conversation, and heartened to see that educators at top universities across the country are focusing on getting students interested in STEM using active learning before they walk onto campus.
Everyone at the summit made a commitment to improve the K-college pipeline, which you can read here. Our commitment to engage 30,000 new students by the end of 2016 can be found on page 118.
But making the commitments is just the first step to making kids' dreams of college and a better life a reality. Now, the challenge is to find more public and private funders to invest in these elementary programs that produce long-term results. Please join us before the year ends in making a commitment of your own to REAL School Gardens and help thousands of low-income children onto the path to a college degree.