Posted by: Edna Chirico
Wednesday, July 27, 2016
In 2012 I started Green Teacher Network in an effort to support schools in challenged communities with basic school gardening skills.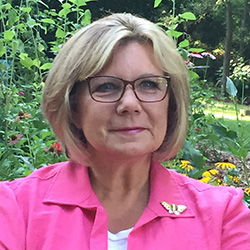 Since then, more than 200 schools and 1500 teachers have joined the network to learn more about creating successful school gardens, to share best practices, and to discuss how to get students more engaged outdoors.  I'm not an educator by training, I'll leave that to the experts.  I always saw my role as a connector, connecting teachers with gardening information, connecting them with nutrition experts, and connecting them with funding partners interested in the cause.
So when the teachers in the network wanted more professional development, I knew I had  to make some new connections and I attended the Green Schools National Network conference and met visionary leaders such as Michael Stone, Center for Eco-Literacy and partner of Edible Schoolyards, Steven Ritz, Mean Green Machine who developed growing walls in the back of his NY classrooms so students could graze while learning, and had several conversations with the superintendent of Lopez Island Schools which totally infuses their students in outdoor learning through a 50- acre farm partnership achieving huge academic success.  All amazing people and great connections to have, but not quite what I was looking to bring back to the network.
Then, I discovered REAL School Gardens.  I traveled to DC to meet with CEO Jeanne McCarty on several occasions and felt like I'd hit the jackpot.  Every time we met, I'd come back to the network with new ideas to get teachers using the gardens more for academics.   Lesson Plans?  "Yes, please."   Effectiveness metrics? Yes please.  I felt like I was at Thanksgiving dinner.  "Would you like some homemade biscuits?" "Yes, please." "Smoked turkey? Roasted potatoes? Cranberry sauce?" "Yes, yes, and yes, please."
Last year, REAL School Gardens began work on a growth strategy and this year, they received funding to expand to four new regions by 2020.  And when Jeanne asked if I was interested in bringing their program to teachers in Charlotte, you know what I said, "Yes, please!"   So in June, the Green Teacher Network officially became REAL School Gardens, Carolinas Region.  Now, we have the resources, programming and effectiveness metrics to enrich our strong network even further.
REAL School Garden programming includes:
1) Teacher Training – Highly experienced teachers provide professional development both in group and one-on-one sessions
2) Creating Outdoor Classrooms – In addition to raised vegetable beds, REAL School Gardens adds lots of teacher-friendly features, such as seating areas and whiteboards, and makes sure the spaces are built-to last and easy to maintain.
3) Standards-based lesson plans – Teachers are busy enough, and every minute of instructional time matters, especially in low-income schools.  So REAL School Gardens provides lesson plans aligned to the standards teachers need, giving them the tools they need to achieve.
It's hard to contain my enthusiasm and excitement.  We have just brought on Tim Morgan, who served six years on the CMS School Board and is an avid Eagle Scout leader.  Our board is transitioning over too.  In fact, our board chair, Dale Stewart, has helped us establish a national partnership with LandDesign to help all of REAL School Gardens' regions develop learning garden designs.
It will take an immense amount of work and funding, but we have the framework and tools we need to get kids in the area out of their desks and into the garden.  To hear more about the partnership as it relates to schools in the Carolinas Region, check out our recorded webinar below.  To join us at an introductory Teacher Training event, register here.
Ready to help create learning gardens that grow successful students?
Yes please!