After an extensive search, REAL School Gardens is proud to introduce Mary Freeman, CFRE, as the new Executive Director for our Texas Region. She takes over the position from Scott Feille, who's been promoted to Vice President of Regional Operations and Impact in our national office.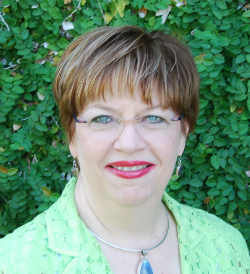 Mary comes to us from Reading Partners and is a 20-year veteran of the nonprofit sector, including The Salvation Army and Habitat for Humanity. She holds a BBA in Marketing from SMU and an MBA in Nonprofit Management from the University of Dallas.
As Executive Director, Mary will lead the next phase of growth in the Texas region, and she is committed to REAL School Gardens' goal of transforming education through experiential outdoor learning.  Her bio is below.
——————————————————————-
Before taking on the role of Texas Regional Executive Director for REAL School Gardens, Mary Freeman combined her skills in marketing and fundraising to help lift some of Dallas' top nonprofits to new heights.
Mary took a very different path into nonprofit leadership than many of her peers.  She went back to finish college in her 30s, and earned both her college degree and her masters over the course of more than 12 years while working full-time and raising a family.
While earning her first degree, Mary followed in her parents' and grandparents' footsteps, and began her nonprofit career with The Salvation Army, scaling and streamlining the local chapter to grow the organizational revenue from $17M to $30M in just five years.  As part of that successful regional restructuring, she also helped create the now famous brand promise "Doing the Most Good."
Mary then moved to Habitat for Humanity, where she created a series of volunteer and donor engagement programs that increased both the organization's annual revenue and its influence in the community.  Out of 1,500 affiliates across the United States, the Dallas Area has now been named the "Affiliate of the Year" for two years in a row.
Continuing her work in low-income communities, Mary joined Reading Partners, a nonprofit that provides reading tutors to schools.  By diversifying financial and volunteer pipelines and expanding both the organization's program offerings and regional partnerships, Mary was able to increase their reach to serve more than 2,100 struggling readers across North Texas.  Now, working with REAL School Gardens will enable Mary to expand her impact throughout the school day, by providing engaging lessons in Math and Science in addition to Language Arts.
Mary earned her Master of Business Administration in Nonprofit Management from University of Dallas and her Bachelor of Business Administration in Marketing as an Armentrout Scholar at Southern Methodist University, both cum laude.  Outside of school and work, Mary is a Certified Fundraising Executive, a member of the Dallas Business Club, President of the Association of Fundraising Professionals Greater Dallas Chapter, and has served as a Planning and Zoning Commissioner for the City of Mesquite.  She is married and the proud mother of two adult children and one grandchild.