Luisa Aviles wasn't always an Instructional Coach for Out Teach.  She first encountered the organization when she was a teacher at L. K. Hall elementary, where she taught for seven years. Luisa remembers what it was like before the Out Teach program (then REAL School Gardens) came to her school.
"After even just a few years, teachers can get tired and frustrated.  You want to help these kids learn, but over and over again, it can feel like you're hitting a wall.  There's always kids who struggle with certain concepts, or behavior problems, or attention issues.  And you're struggling to help all your kids, searching for new ideas, or you're spending hours trying to create solutions on your own.  I'm a creative person, but sometimes it felt like I was reinventing the wheel.
I knew I needed more professional development.  And while the district offered one-day PD sessions, their one-size fits all approach meant that there were only a few tips you could apply to your own daily practice. That's not helpful to a teacher's professional growth.  Think of teachers like doctors or lawyers.  For every student individually, and then the class as a whole, you need to analyze the situation, spot the challenges, then holistically look for long-term solutions.  For 30 kids, for every lesson, every single day.  And no one-day session is of much help there.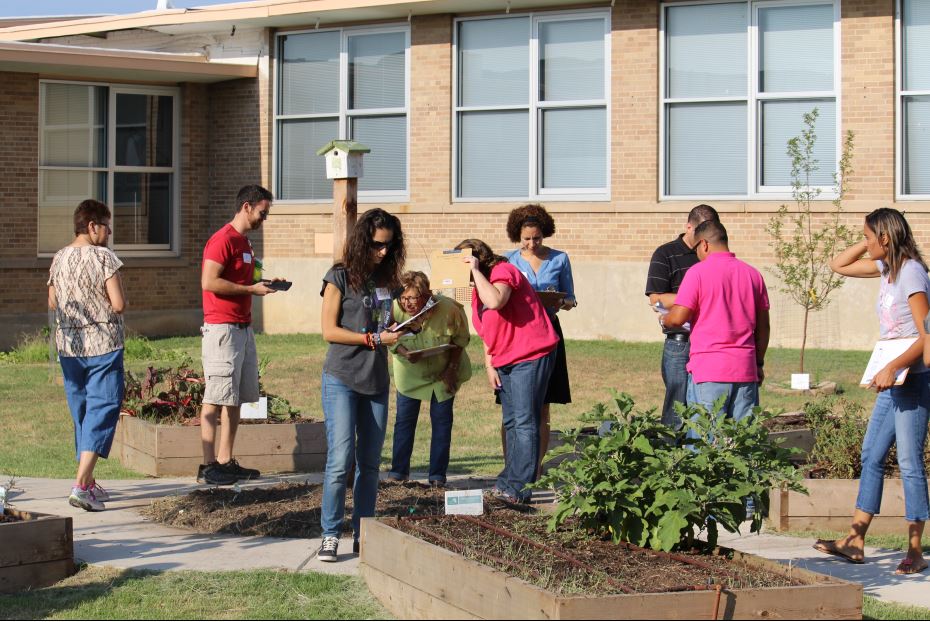 So when our principal partnered with Out Teach (then REAL School Gardens,) I knew that this was something very different.  I could tell they were there to support me as a fellow professional.
During the first training, we were outside, learning in our own space, and I realized that this was what I had been searching for.  This was different.  This was a whole new way to teach.  Everything I needed was right there outside. I could use all my skills, all my creativity, and shift over to experiential learning in an outdoor setting.  It was so exciting.
And then our Instructional Coach returned, over and over again, working with teachers with their own students, in their own environment.  I couldn't get enough.  I worked with the Instructional Coach and developed a six-week cross-curricular unit for my kindergarten class.  That class had a number of behavior issues I needed to manage, so some teachers were really surprised that I was taking my students outside, but I knew this approach could work wonders, and I was right.
For six weeks I got the children more engaged and self-directed by giving them experiential lessons outdoors.  At the end of it, not only did they all do well on their district test, but the kids who had exhibited difficult behavior beforehand, they shaped up and stayed right with me when we were learning outdoors.  Outside, I could just redirect all of that energy into the project and they really thrived.    I could really see a new path for myself and way to be more effective every day, and that's deeply fulfilling professionally.  Now every day, I enjoy helping other teachers transform learning for their classes and themselves.