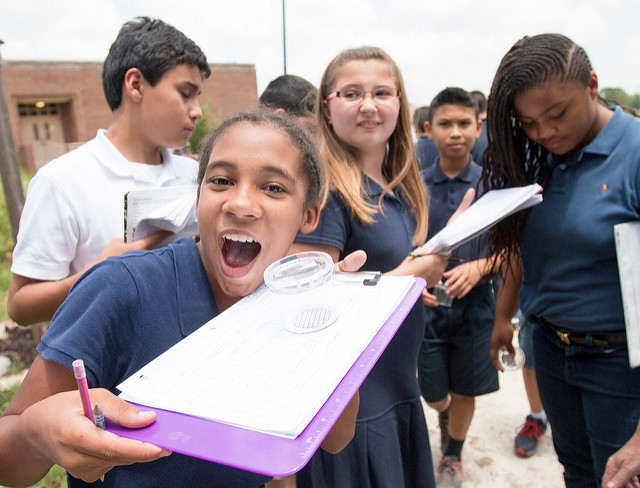 "I had this one student, Sara. She was a sweet girl, but a distracted student, just bouncing off the walls, failing test after test. I worried about how to keep her engaged in my science class.
Then we partnered with Out Teach. I learned how to use the outdoor learning lab, and took the class outside for a "forms of energy" lesson. At first, Sara didn't want to go, saying 'Ugh! I don't like going outside.' But then I asked her to find an example of sound energy in the outdoor classroom, and she was immediately engaged and interested. It was like she had flipped a switch! Outdoor lessons finally unlocked what had been there the whole time — intelligence, curiosity, and wonder. The outdoor lab gave  her the chance to be herself because there was always something new to do and investigate outside. Soon, Sara was even coming up with her own lessons and sharing them with her fellow students.
Now, Sara and her classmates are confident problem-solvers, easily connecting what they're learning to the real world — and it shows on their report cards!  Thank you, Out Teach, for helping me bring learning to life for my students. They're eager to come outside and explore with me, and I'm happy too, because every day their futures get brighter and brighter."
Out Teach equips teachers to unlock student performance with the power of outdoor experiential learning.
Help us empower more teachers like Mr. Gibbons to reach more students like Sara!
Names have been changed to protect student privacy.