Gaby Lopez, a 2nd grade teacher at Sope Creek Elementary, just shared her experience using the Outdoor Learning Lab with us. Thank you for sharing Gaby, and keep up the great work!  Sope Creek specializes in STEM education, so it's wonderful to hear how well teachers are doing taking STEM instruction outside!
———————————-
My journey with Out Teach has been quite the adventure! Throughout my entire teaching experience I've taught a whole group session in front a smart board and the kiddos have participated in small group rotations. My instruction time has always been so structured, and didn't allow for much movement.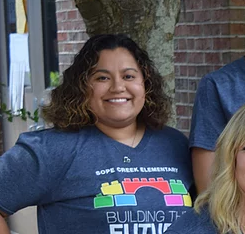 So, when we were introduced to Out Teach I was a bit nervous. I thought to myself "I don't have a green thumb!" I've never taught a lesson in an outdoor environment and I was worried about maintaining my kiddos' attention.
However, I was unexpectedly surprised. My kiddos LOVE being outdoors for instruction. Being outside, instantly made all of them more comfortable. They were all eager to participate during our whole group instruction time. Since we were outside I didn't have visuals on a smart board, which required me to be more creative. For each of my lessons, I used real-life objects and our outdoor resources. I was hesitant to let them wander around our garden without my supervision, but my kiddos proved me wrong. They were all more eager to participate in discussions with their peers and actively participate in the learning process.
I can't believe it has taken me so long to take this step. I wish I had done this years ago. Joining the Out Teach team at our school has been a life changing experience professionally. I've learned to embrace the outdoors, and most importantly instill a sense of respect and appreciate for our environment to my kiddos. Thank you Out Teach!