Out Teach has transformed my teaching, my students, and my outlook on life.
I'd always considered myself a strong teacher. I worked really hard to create lesson plans that had me lecturing for 10-15 minutes, then letting the kids work independently or in small groups for 25-30 minutes, and then we'd have a closing activity. It was all very teacher-directed. It's just how I'd been trained and how it had always been done.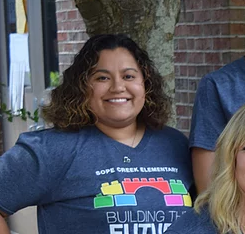 But during those lessons, out of 23 students, I'd notice that less than half were ever actively on task and participating. Especially my ESOL students, who always struggled to grasp new concepts. So I'd spend more time supporting them and less time challenging the kids who were doing fine on their own.
But then my school partnered with Out Teach.
At first, I was hesitant about joining the Out Teach program. I have never been a "Science" person, or an "outdoorsy" person, but I wanted to challenge myself to try something new.
I'm so grateful I got the opportunity to Out Teach.
My coaching sessions were so HELPFUL! It is great to have an expert in the field watch me teach and build upon their lessons. My meetings with my coach were truly eye-opening. I got such amazing feedback, techniques I could use the next day, and I didn't ever feel judged. In fact, I've never felt so supported in my work.
I still remember the last lesson I did with my coach watching, a parts of the plant lesson. Before, I probably would have shown the students pictures of plant on the board, then had students label drawings, or maybe draw something themselves and label it. But this time, I made this lesson the hook to our overall fourth quarter STEM PBL project, and had the students examine the tulips they had planted months before. By reviewing the parts of a plant by identifying their importance, we gave my ESOL students a wealth of new vocabulary and word usage. And they really responded to comparing the functions of different parts of the plants to parts of the human body – which part is breathing? Which part is drinking? How is it moving nutrients? It's all so much more meaningful and relevant in the real world.
It was so wonderful to see ALL the kids actively participating and having vocabulary rich conversations with their peers. All the students challenged themselves with rigor, many finding multiple plants to document. To this day, they all remember information from that lesson. In addition to getting the right answers on Science tests, I started seeing more descriptive language in essays.
Now that I Out Teach, I know that I shouldn't restrict myself or my students to the classroom. All my kids deserve engaging instruction and more of a hands-on approach to learning. They all need to get their hands dirty and become more of an active participant in their learning process.
And now that ALL my kids are so eager to participate and take an active role in their group, I get to step back and take on a support role for my students. They have taken over their learning and guided themselves through this whole process.
Now, students are more willing to make mistakes and learn from them. It was hard for me to learn to let go of the reins and let them explore. But now, I trust my students to lead themselves down the right path. Even when I've had concerns, the kids keep proving me wrong. These new science and garden concepts make them more eager to learn and discover new knowledge.
With all this new knowledge, I'm never looking back. Now when I plan lessons, I will allow students to explore for themselves and develop their own conclusions, all while I serve as a support. It will be interesting to see how next year's students rise to the occasion. A new journey awaits, and I cannot be more eager to begin! Thank you Out Teach for guiding me through this process.