Just spotted a great Before/After picture our partners at Green Acres Elementary sent that made us realize our school partners are in the throes of Back to School Weed Wars in their Outdoor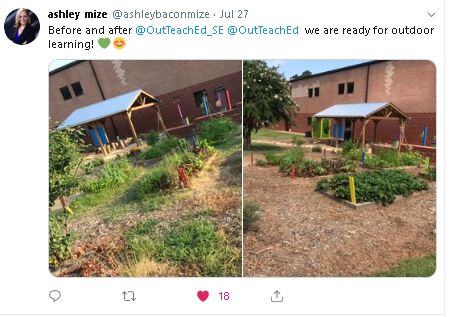 Learning Labs. To help, here are some quick tips from our expert Landscape Architects!
In the Mid-Atlantic, Evan Dintaman says:
Stay on top of weed control. Weed a little bit at a time, instead of letting them pile up!
— Allow students to help pull weeds. Some schools tell us their students absolutely love weeding!
— Wear gloves when weeding. Know how to identify poison ivy!
— Be sure to pull weeds from the roots. Otherwise, they will come back quickly.
— When pulling weeds, be careful to not disturb any visible seeds while removing/disposing.
— Dispose of weed debris in yard waste collection (offered by some counties). If you dispose of fresh weed debris on the ground or in a compost bin, the weeds will likely continue to grow and disperse seeds. If disposing in a compost bin, first dry out the weeds on a paved surface in bright sun, or cover the weeds with a tarp until they die back completely.
— Disposing weeds in plastic bags and throwing them in the trash is an option for particularly noxious weeds. Earth friendly, biodegradable bags should be considered first!
In the Southeast Region, Kalle Waterhouse added:
I love the little weed poppers (the end looks like a snake tongue)—they don't disturb as much of the plantings around the weed in question & they're GREAT for getting out weeds with big taproots such as dandelion. I also have an affinity for the tool that has a claw on one side and a mini hoe on the other—it's great for people who have mobility challenges because it's a powerful, multi-use tool that can be used while staying in pretty much one spot.
Another really fun thing that I suggest to teachers with older students (really any kids 1st grade+ ) is to develop a really scientific experiment with natural weed control measures:
— Measure out 1'x1' squares (smaller depending on site constraints) and mark them out with string
— Keep one as a control and then create as many additional squares as needed to compare products (I suggest a vinegar spray, one with a baking soda slurry, one with a baking soda and vinegar slurry—always fun because it fizzes!, one with a concentrated salt water spray, etc)
— Keep a journal of observations
I second Evan's comments regarding keeping on top of it but when that's not possible, make a back to school event out of it. Invite the teaching teams to come out for a couple of hours, have music & water and catch up on summer stories. Or hold a weeding competition for older kids—winner by weight or quantity of leaf bags stuffed or by time taken to weed a particular area. I don't recommend this for younger students as they just start pulling out everything in sight 😉
In Texas, Lannie McClelen finishes up with….
Only other things I can think of:
— Keeping everything well mulched.
— Posting the weeds wanted chart. It is crazy how many people do not know how to identify common weeds.
— Here is a recipe for an organic herbicide I like.   Mix 1 gallon of vinegar (10% solution), 4 tablespoons orange oil or d-Limonene, 1 teaspoon fluid liquid dish soap and 1 tablespoon molasses (optional). Pour into a bottle and spray only on targeted weeds.
And last but not least, for pesky weeds that are dug in deep in brickwork or gravel, there is this blowtorch. School policies on open flames will vary, but this is organic and deeply, deeply satisfying. Don't burn them to a crisp or they'll regenerate, just wilt them to kill the whole plant.