Teacher Spotlight Blog
Joslyn Guidot, 1st Grade Teacher, Montpelier Elementary,
Prince George's County Public Schools, Maryland
Pumpkin Starts with "Puh"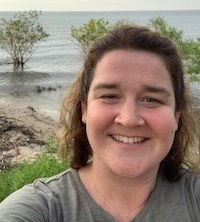 This year, first grade teacher Joslyn Guidot's classes all contain many students who don't speak English.  In fact, she has students speaking five different languages.   With so many students at various stages of learning English as a Second Language (ESL), it's a challenge to keep everyone engaged. But Ms. Guidot has a special talent. She knows how to use real-world learning – in and outdoors – to reach kids who are not only learning the curriculum, but learning English at the same time, all without boring the students who've always spoken English..
This year, Ms. Guidot has set a bold goal for herself: Every day, lead at least one cross-curricular lesson that includes three different subjects.
Why? Because cross-curricular learning provides rich and meaningful context that helps students connect the dots, letting new content sink in in a more meaningful way (and not to mention, saves time!).
In an average week, Ms. Guidot takes her students to the Out Teach Learning Lab for a cross-curricular lesson three or four times, and finds that this helps all students understand concepts more quickly and concretely. After students have time to move and explore, she says "I'm making an observation. I'm noticing. I'm using my senses," and then shares something new she noticed outside. Suddenly, her students begin having scientific discussions and making observations of their own!
For example, Ms. Guidot recently combined learning objectives on shapes, opposites, phases of the moon, animals, and diagrams, all packaged into a cross-curricular lesson based on the differences between the day and night. Students were tasked with observing shapes in the sky, in particular the moon, and relating them to other changes they could find in the garden. The lesson also encouraged parents to participate, and they enjoyed helping their children make nighttime observations from home.
By connecting Science with Math, ELA, and even Art, Ms. Guidot empowers her students to take more ownership of their learning. Being outside creates endless opportunities to personalize learning for students, letting them pursue different interests within the context of the lessons. Once, as the class was in the middle of a categorization exercise, one student became particularly interested in the way the leaves were changing, and Ms. Guidot took the opportunity to share some new vocabulary words. When trying to describe the sound the leaves made, he actively sought more information from Ms. Guidot. "The leaves…crack?" he asked, knowing that the word "crack" wasn't quite right. "Crunch. Dry leaves crunch when you walk on them," Ms. Guidot shared. "Crunch! Crunch! Crunch!" he exclaimed as he stomped delightedly around. Onomatopoeia wasn't in the lesson plan, but what a rewarding addition for that particular student.
In addition to building cross-curricular academic skills and knowledge, Ms. Guidot's approach helps all students enhance their social-emotional skills. At the beginning of the year, one ESL student was beyond stressed in school. He was frustrated with the constant pressure and confusion created by the language barrier. To try and help, Ms. Guidot created daily outdoor observation exercises called "Mindful Moments." Every day, students go outside to silently draw and write descriptions of things they notice. They might focus their attention on the shape of a vegetable, the color of the leaves, or the grasses moving in the wind, whatever catches their interest. Then, they go inside to share their observations, and Ms. Guidot incorporates what they've shared into the day's lesson.
In addition to giving students clear touchpoints in the lesson, this quiet time to focus on the natural world has worked wonders in helping young students decompress. Students relax while noticing shifting weather patterns, the growth of plants, or the sound of birds, and make connections with the lesson concepts more quickly when Ms. Guidot references their observations. Ms. Guidot's stressed student relishes this time, and she sees the benefits every day. Not only has he stopped crying, he's clearly happier and more engaged. Just the other day, he proudly came into the classroom smiling and announced that the pumpkin he had been drawing starts with the "puh" sound. Other teacher have remarked on his transformation, and are trying to incorporate Mindful Moments into their own lessons.
Her students also expanded on their leadership skills outdoors. When 5th graders were paired with Ms. Guidot's 1st graders for an outdoor lesson, her 1st graders eagerly stepped up to demonstrate how to do everything. The 5th graders were taken aback at first, but quickly came to respect the young experts, and learned a lot from them. Ms. Guidot's students regularly demonstrate teamwork, appreciation of nature, curiosity, and subject matter mastery, all skills cultivated with help from the outdoor setting.
Ms. Guidot's bold goal may be challenging, but it's certainly making a difference. On the students' last test, the lowest grade was just 8/10! The principal came outdoors for an observation, and remarked how each and every one of Ms. Guidot's students were becoming more confident – raising their hands to participate, making connections between subjects, and even letting themselves be vulnerable to making mistakes. She was delighted to see such great progress so early in the year.
Thank you to Ms. Guidot for your inspiring teaching! We are grateful for your hard work and for sharing your story with our Out Teach network!