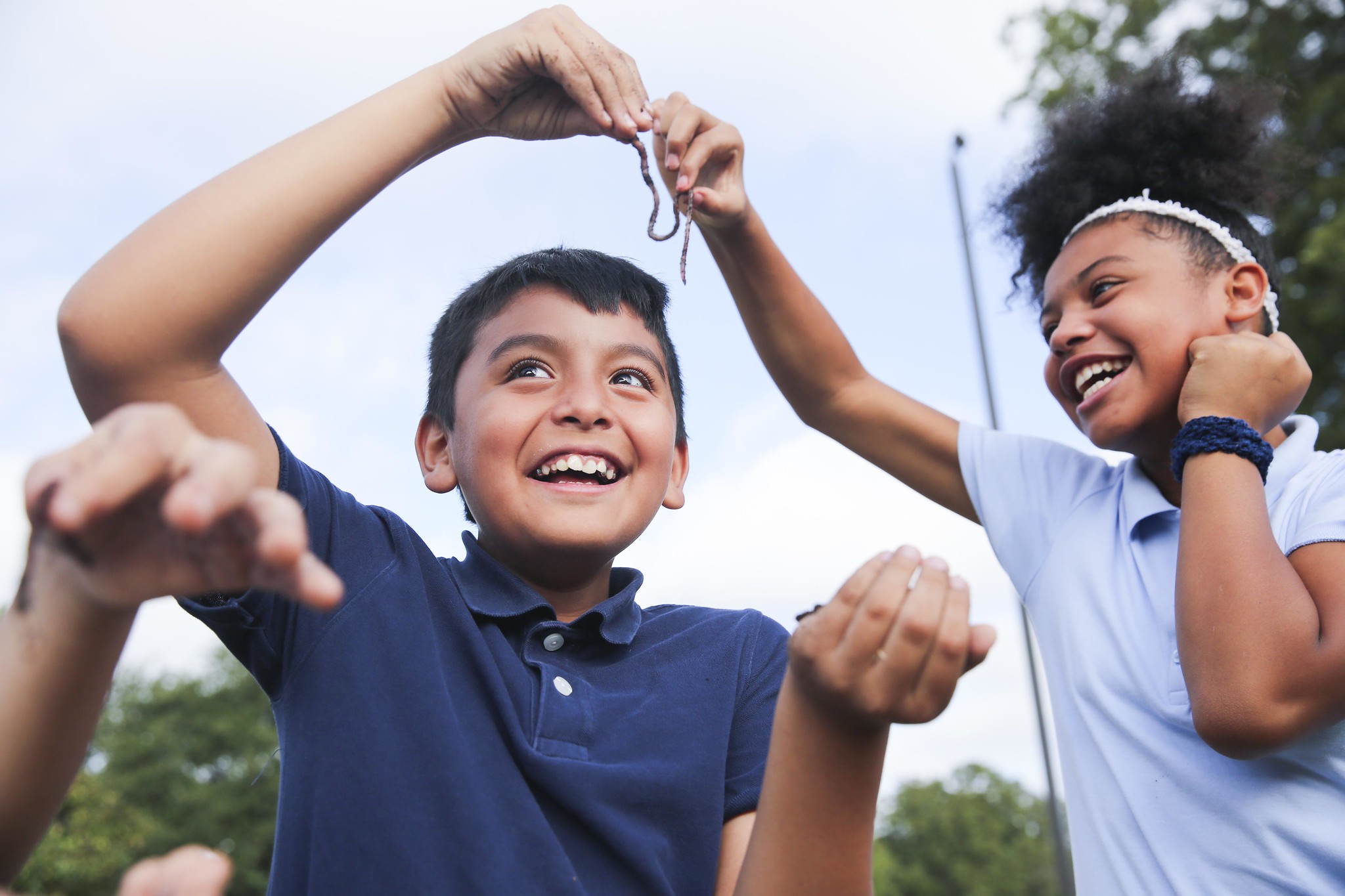 You can empower more teachers like Ms. Reid to reach more students like Angel* Donate now!
Angel* came to the U.S. when he was in 4th grade and struggled with school. At the end of his first year, his highest grades were Ds. His teachers worried that without a strong foundational education in elementary school, he'd never catch up.
Fortunately for Angel, his 5th grade Science/Math teacher, Ms. Reid, wouldn't let that happen. She worked with Out Teach and led hands-on lessons outside. She found students focused more when they could move and do, and the outdoor space itself generated excitement and engagement. Angel shrieked in disgust the first time he saw worms in the compost, but soon, he was feeding them apple cores from his lunch.
More than memorizing facts, Angel was developing a scientific mindset, asking questions, thinking critically, and testing solutions when learning through hands-on lessons. The outdoors encouraged him to participate and engage because it made abstract concepts easier to understand, giving Angel rich, meaningful, and memorable experiences he'd never had outside of school.
Hands-on learning outside transformed Angel, providing endless context around subjects he struggled to understand when only reading about them.
He quickly became a model student, earning As and Bs in Science and Math.
He also took on leadership roles while building bird and lizard habitats. He recognized problems with the school's pole-bean trellises and engineered a solution. He even collected seeds from the garden for next year's students, leaving his own legacy of learning. It's been two years since Angel left for middle school, where he thrives in Science. He keeps in touch with Ms. Reid, and dreams of becoming a microbiologist someday. Turns out the humble worms he fed in the compost sparked a fascination no textbook ever could, and the teacher who took him outside put him on a path to a brighter future.
Donate today to ensure that all students, no matter their resources, have access to an engaging hands-on education that transforms their lives.