Advancing Equity
2020-21 Annual Report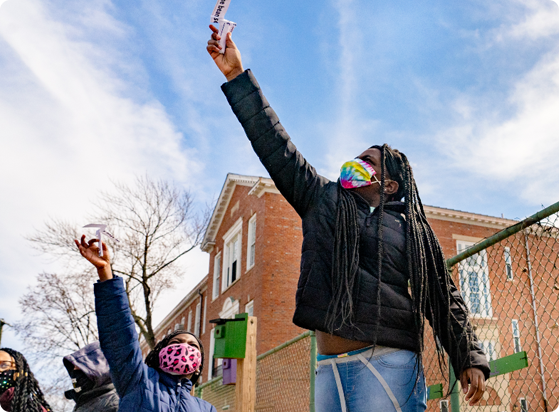 Advancing Educational Equity
Out Teach strives to meet each student where they are, and equip them to get where they want to be. The current education system in the United States is exacerbating inequities and leaving millions of students unprepared to succeed in the 21st century, in part due to institutional beliefs and practices that do not take distinct cultural backgrounds, lived experiences, and special needs into account.
To help advance educational equity during the pandemic, Out Teach shared its proven strategies on how to teach, where to teach, and what to teach with 1,532 teachers at 64 schools in 21 districts, improving culturally responsive, student-driven, inquiry-based learning opportunities for 38,300 students.
Out Teach believes ALL students have unique experiences and valuable knowledge that they bring into the classroom. We utilize the "5E" instructional framework to ensure that students can engage and explore subjects from their own unique perspectives. By coaching teachers to conduct 5E lessons outdoors, Out Teach equips them to lead phenomena-based experiences proven to boost critical thinking, creativity, communication, and collaboration skills in diverse classrooms. The 5E model provides all students with opportunities to:
Authentically connect to real-world problems
Build memorable experiences
Create shared experiences with classmates that build relationships and foster collaboration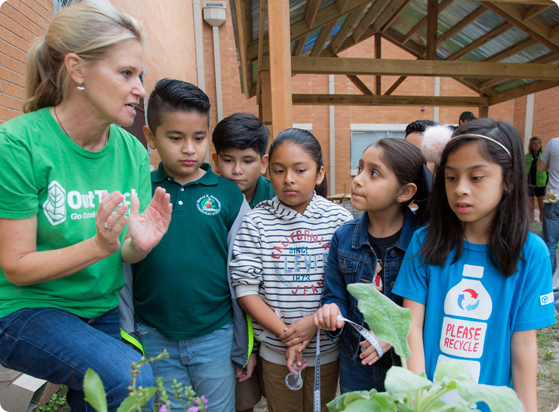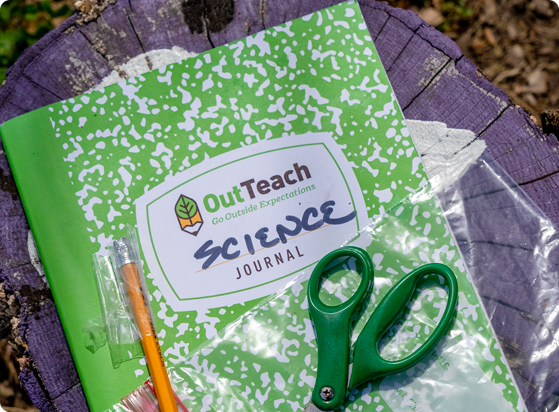 Out Teach focuses on improving the quantity and quality of elementary science instruction because early education has the power to build STEM knowledge, skills, and interest, improving access to STEM career pathways.
STEM starts with science, and interest in STEM careers solidifies by 6th grade. Without effective science instruction, many students get shut out of the pipeline early. The "Nation's Report Card" shows that less than 20% of students who are Black, Hispanic, or from families identifying themselves as low-income score at or above "Proficient" in science. By improving access to early science education we can create a wider, deeper, and more equitable STEM talent pool, improving the nation's STEM infrastructure with more diverse perspectives and solutions.
This year, we coached and inspired 1,532 teachers, moving Out Teach closer to our five-year plan to equip 10,000 teachers to get students deeply engaged in science using hands-on outdoor learning to make science more real, relevant, and relatable for every student every day.
Out Teach activates outdoor spaces for learning because science is all around us. From sidewalks to soccer fields, every school has an outdoor space that can quickly and easily be activated to support hands-on science learning.
Activating outdoor spaces on school campuses gives students of all backgrounds access to a range of first-hand learning experiences, as well as shared experiences with classmates and communities. Outdoor experiences are inherently cross-curricular, making not only science but math and language arts more authentic, meaningful, and relevant.
To improve equitable access to a dynamic, engaging, and immersive learning environment, this year, Out Teach created five new outdoor learning spaces with partner schools. By the end of our Strategic Plan in 2025, Out Teach will have created 169 new outdoor learning spaces with our school partners.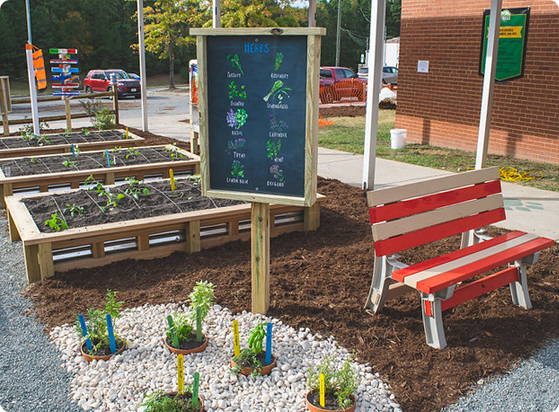 Diversity, Equity, and Inclusion at Out Teach
As a leader in professional learning, Out Teach emphasizes that teacher and school voice are integral to our work. Our staff is trained to avoid making assumptions and actively promotes an atmosphere of opportunity. We believe in the vital nature of this growth amongst our staff, just as we do for the students and teachers in our schools.
As part of our strategic goal to advance organizational capacity, in 2019 Out Teach focused and formalized our emphasis on diversity, equity, and inclusion, or DEI. DEI is important to Out Teach not only because it is a marker of a strong and successful organization, but because we believe our team should reflect and have deep understanding of the diverse communities we serve. After securing external expertise and creating a DEI committee, Out Teach worked to create a purpose statement, assess our current situation, and chart a path forward.
Diversity, Equity, & Inclusion at Out Teach

Out Teach is built on the fact that different experiences are at the center of creating knowledge and perspectives that help everyone grow and succeed. For this reason, we believe that Diversity, Equity and Inclusion is not only morally important, but a vital path to strengthen Out Teach in better serving our partners with meaningful solutions to the challenges of inequity in education. We recognize that too often voices of color and other marginalized individuals are not included in these solutions, and endeavor to be that inclusive place where educational solutions are born.
DEI is formalized and activated by a Board-approved plan with measurable strategies for success in hiring and retention, training, building an inclusive culture, and the infrastructure of the organization.
What gets measured gets managed. In 2019, Out Teach began yearly workplace surveys on metrics such as Attitudes and Contributions, Culture and Belonging, Opportunities and Resources, Voice, and Fairness. We recognized the need for growth in several categories. Out Teach instituted key systemic changes, and within one year moved the organization above the 50th percentile of other similar organizations for each category.
For two years in a row, our scores have increased across all twelve measures on our internal staff culture and DEI survey. Not only that, our survey also revealed that while Out Teach improved in each category, the improvement was driven by employees who identified as members of minority groups (including race, ethnicity, age, gender, sexual orientation, and family status).
At Out Teach, diversity includes diversity of experience, so we prioritize hiring instructional coaches and team members who have proximity to the issues that teachers face on a daily basis in historically under- resourced schools. 100% of our instructional coaching staff and school partnerships staff have significant experience teaching in Title I public schools, as does our Vice President of Programs. We prioritize hiring coaches based on their skills and knowledge while also striving to reflect the populations of students in our partner schools and ensuring we are supporting and inspiring teachers of color.
DEI Purpose Statement
Out Teach embraces Diversity, Equity, and Inclusion practices not only because they are morally important, but because these efforts strengthen the organization to better serve our partners and help them towards their goals. When individuals from diverse races, ethnicities, viewpoints, physical abilities, economic backgrounds, genders, and sexual identities and orientations share their experiences, and we all listen, value, and learn from one another, we become stronger, more innovative, more responsive, and better able to navigate new challenges.
At Out Teach, the ideals of Diversity, Equity, and Inclusion guide our staffing, partnership, and strategic decisions every day. It's the way we're meant to be. So — Be Yourself. Be Fair. Be Present.
Be Yourself. We are all very different in many ways. We actively seek to improve our understanding of one another's experiences through hiring, training, and learning. Staff, board members, partners, and stakeholders are all encouraged to share their diverse perspectives and experiences so that we may all benefit.
Be Fair. Organizations thrive when they ensure everyone is treated consistently and equitably. We are thoughtful, transparent, and reflective, and work to ensure that our systems and practices are fair, helpful, and clearly communicated. We share a genuine passion to create opportunities for all to thrive.
Be Present. In order for staff and stakeholders to get and stay engaged, they must be welcomed, included, and valued. We embrace the complex and rich identities of self and others so that each person brings their unique perspective to help Out Teach make decisions, achieve objectives, and remain a great place to work.
Key Initiatives in 2020-21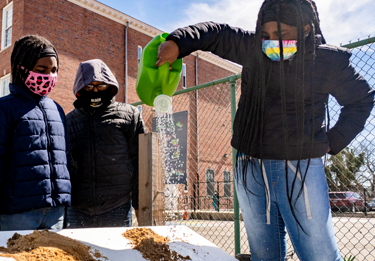 Responding
to the Pandemic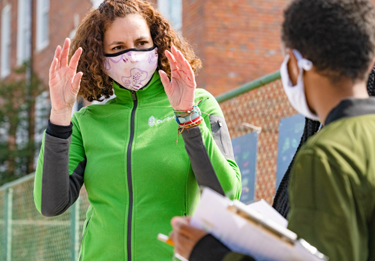 Advancing
Educational Equity