Closing the Science Gap
2020-21 Annual Report
At Out Teach, we believe that every child has a fundamental right to an education that leads to opportunity.
STEM careers are some of the fastest growing and highest paying jobs. Many other career opportunities require strong 21st Century and social-emotional skills, such as collaboration, communication, self-direction, and critical thinking.
But most students, especially those in historically under-invested communities, such as Black, Hispanic, and rural communities, don't have equitable access to the early experiences with science that are proven to boost STEM, 21st Century, and social-emotional learning skills.
Over the next five years, Out Teach will prepare more than 10,000 elementary teachers to close the science gap in historically under-resourced schools by engaging more than 250,000 students in real-world science.
Most students lose interest in STEM careers before they even reach middle school, effectively shutting them out of thousands of engaging and rewarding jobs. Out Teach strives to ensure that students get plenty of exciting hands-on, real-world experiences in science before they reach sixth grade.
For decades, investment in science education has been out of step with the needs of students and our nation as a whole. On average, elementary students receive 18 minutes of science instruction per day and 2/3 of elementary teachers to do not feel prepared to teach science. Our test scores prove it. Out Teach re-engineers science instruction using research-based instructional practices and job-embedded professional development. By working one-on-one with teachers to integrate more hands-on, student-driven science into the regular school day, we help make every subject more engaging.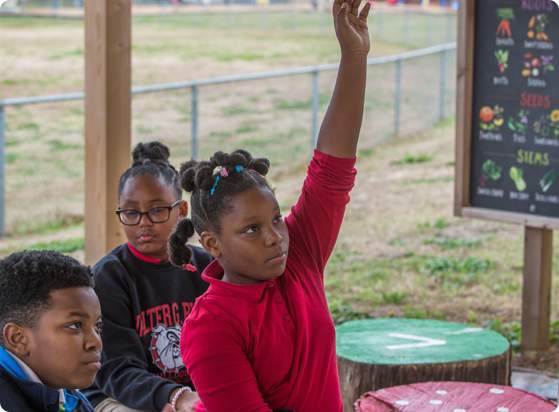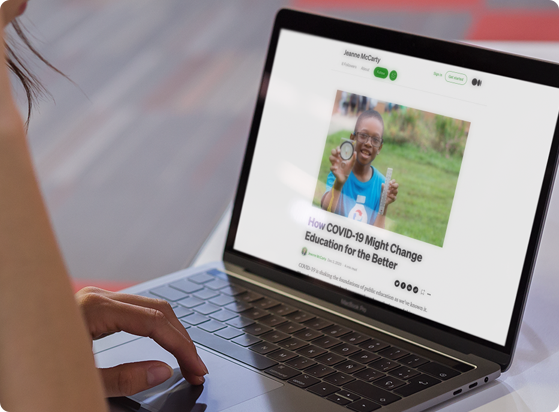 Shifting the Conversation
Elevating Elementary Science
Out Teach is elevating the national conversation around the need to improve elementary science instruction and why it's important. We regularly collaborate with other thought-leaders and share our expertise in articles, webinars, and interviews, convening panels of educators doing impressive work in the field.
Screen Time to Green Time
National Board of Professional Teaching Standards Webinar
Scott Feille, the head of our instructional team shares how to create engaging outdoor learning experiences remotely by using the 5E instructional model over a synchronous-asynchronous-synchronous format.
Outdoor Learning for EVERY School
SXSWEDU Panel
Out Teach CEO Jeanne McCarty was joined by Principal Rey Cervantes and Outdoor STEM teacher Sean Splawski to discuss how schools and teachers can better use their outdoor spaces to accelerate learning.
How COVID might change education for the better
Out Teach CEO Jeanne McCarty published this piece looking at the future of education post-COVID, and the lessons learned during the pandemic.
We Are All Scientists
Sprouts Coast to Coast School Garden Tour
Our partners at Sprouts and the School Garden Support Organization shared this video of our work with schools across the country interested in outdoor learning.
Summer Institute for Garden-based Teaching
Our Landscape Architect Evan Dintaman shared how Out Teach engages the school community to create our signature Outdoor Learning Labs.
STEM Winter Webinar
Guests got a chance to try out one of our remote student lessons for themselves, learning all about the water cycle while engineering a device that captures hidden water.
In February, to celebrate the International Day of Women and Girls in Science, Out Teach spotlighted women doing incredible work in STEM education with a series of profiles, including profiles on Out Teach Board Chair, Shally Stanley, and Board members Peggy Brookins and Errika Moore.
Women hold only 27% of available STEM positions. Long-standing biases and gender stereotypes have been shown to discourage women from pursuing science related fields. But studies show that early outdoor experiences are one of the most effective ways to encourage young women to pursue science and STEM careers. Girls engaged in hands-on real-world science tend to outperform boys, unlike more lecture-style instruction, which has been shown to discourage female participation.
We cannot afford to leave this pool of potential STEM leaders and innovative problem-solvers untapped.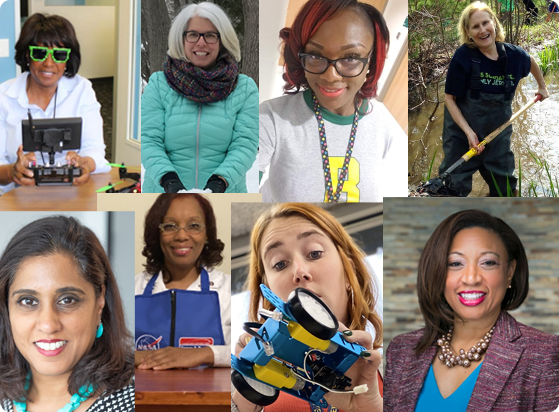 Creating STEM Opportunities with Cox
Our partnership with Cox Enterprises creates STEM opportunities for students, no matter their resources.
Cox Enterprises Virtual Big Dig
Out Teach partnered with Cox Enterprises to create a new Outdoor Learning Lab for more than 650 students at Harper Archer Elementary in Atlanta Public Schools. Because we were unable to host an in-person event, we worked with Cox to create our first ever virtual Big Dig. Cox volunteers created and built more than 30 outdoor learning features from home and then delivered their completed projects during a fun contactless car parade.
The Cox Enterprises Scholarship Fund
Out Teach partnered with Cox Enterprises to create a scholarship fund for Georgia teachers to join the Out Teach Professional Learning Community, a virtual collaborative teacher network committed to innovative STEM instruction. After a competitive application process, Out Teach awarded scholarships to teachers in 25 urban, suburban, and rural districts throughout the state.
Key Initiatives in 2020-21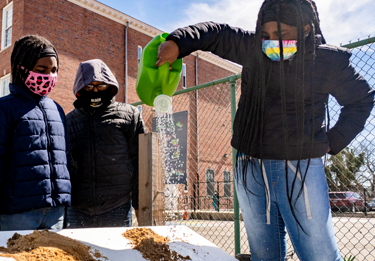 Responding
to the Pandemic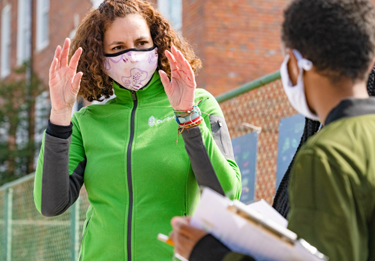 Advancing
Educational Equity