Scott Feille, Out Teach's VP of Programs and a classroom teacher for many years, shared the following with us to kick off the new year.
Science, Emotion, and Performance
When we reflect on our teaching careers, each of us has a class or two that stands out in our memories-a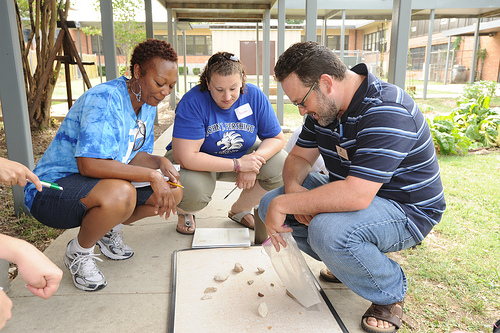 class that gave us that "excellent teaching feeling". For me that excellent teaching feeling is a rhythm. It's a sense of unity in our learning when we're all clicking and growing our knowledge as a team. This kind of learning isn't just academic, it's social and emotional as well. It feels good, and once you've experienced it, it's hard to settle for less…
It was the first days of school in the 5th grade. Systems, procedures, establishing a tone-you get the drill. As a teacher who relied on my outdoor learning lab for much of my science instruction it was important for me to begin cultivating a rhythm with my students early in the year so that we could have successful, focused, explorations outdoors. And since student-generated questions are so important for student-directed science instruction, I designed an outdoor learning experience that was designed to 1) introduce students to outdoor procedures 2) hone their observation skills as a pre-requisite to generating questions 3) foster a sense of place and a connection to the biotic and abiotic factors in our schoolyard environment.
The lesson was simple. Find a "little thing" that fits in the palm of your hand and sketch it from three different perspectives (side, top, bottom views, etc.). Label your sketch (to create a diagram) and write a poem about your little thing. I supplied a scaffold for the poem for students who weren't comfortable generating one out of thin air. The lesson went well.
Students turned in their journals so I could review their work, or as we say in the biz, conduct an informal, formative assessment. As I was reading Christian's poem about the caterpillar he observed and diagrammed, these words jumped off the page at me, "My little thing is a lot like me because it is probably scared about the future and doesn't know what it will become…" This was a little unexpected for me. Christian was beloved by his classmates and teachers. He had a glowing personality, an incredible sense of humor, solid academically and just an overall classroom culture booster. I knew him when he was in the earlier grades, and his reputation preceded him! He was last on my list of students who might need special social and emotional support.
I invited Christian to lunch to discuss his work, and he was very open about his poem. He was nervous about growing up. Specifically, he was looking ahead to 6th grade and worried about being a small fish in a big pond. What would happen to his friends? Would they still go to his school? Would they still be tight? What about all the other kids from the other schools? How would that change his existing friendships? Would people still like him? Would he be able to keep up his grades? Would he get along with his teachers? I was taken aback by his openness and vulnerability and in that moment, I gained insight not only into Christian but also into the incredible classroom dynamic that these students, most of whom had attended PK-5 at our small neighborhood school, had developed over the years. It was one of those groups that gave me that "excellent teacher feeling".
Christian easily overcame his trepidation, and we had an incredible year as a community of learners. I'm sure I learned at least as much as my students! I learned that being an educator is about more than teaching children to read and write and memorize content. I learned that science is a team sport rather than an individual endeavor. I learned that excellent science instruction is more than the transmission of content. And I learned that self-directed, outdoor, experiential learning is a "best practice" in elementary pedagogy, because it has the power to unlock student (and teacher) performance.