NO! Heck NO! I Can't Even…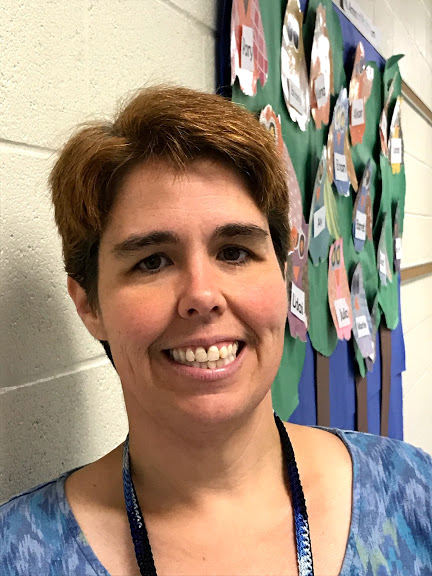 When Brookfield Elementary in Virginia closed in response to COVID-19, teachers were sent scrambling to help get students and their parents up on an online educational system.
One by one, kindergarten teacher Melissa Amory helped parents connect to the system to continue the school year online. Week after week she worked with those who couldn't afford laptops, those with complex work schedules, and those with language barriers until all parents were up and running and ready to help their kindergarteners get back to learning.
Then the online learning system crashed with the sudden influx of users, and teachers received instructions for a new system. So Melissa started over. Then it crashed again.
That's the moment when Out Teach Instructional Coach Luisa Aviles happened to call Melissa to set up an outdoor lesson planning session.
Overwhelmed, Melissa said, "I was like… NO! Heck NO! I can't even… I can't connect with half my students. There's no way I'm tackling outdoor learning now." So they made an appointment to check back in in a few weeks.
During that time, Melissa spent hours searching for ways to help get her young students to engage in learning. But the webinars and resources she found weren't effective. After a few weeks, she'd managed to connect with her kids, but when they were on the video calls together, all the students wanted to do was socialize.
"Getting them connected socially to their classmates and to me is important for sure, we all miss each other and want to share what the experience has meant for us, but it was a real struggle to get them to switch over to schoolwork and get them engaged academically," Melissa said. "Nothing was working. There are huge challenges with both synchronous and asynchronous learning for this community. The kids are 100% reliant on their parents for technical help, and the parents are facing a thousand other challenges. Helping their kindergartener switch back and forth between online learning tools… in an unfamiliar language…while on a cellphone… after work….while making dinner, it's all just too much to ask."
She needed to find a way to mesh synchronous sessions (when she's on video calls with the kids) with asynchronous lessons (when kids receive work to do on their own) in a way that held kids somewhat accountable for their asynchronous learning and give it purpose. So Melissa started thinking about how colleges and universities assume that students have already done the reading, or the assignment and they use classtime to discuss, what educators call "flipped" learning. It's not typically done in younger grades for obvious reasons, but with COVID-19 closures, there weren't many other options. It was going to be a lot of hard work, but Melissa was prepared to figure it all out on her own.
Then it was time for her rescheduled meeting with Luisa.
Melissa says, "I explained to her what I'd been trying to accomplish, and Luisa shared with me how in distance learning we should have kids do the 'remember and understand' parts of Bloom's taxonomy on their own, then use synchronous sessions to do the middle two parts – apply and analyze, and then they can take it back to asynchronous learning for the final two parts – evaluate and create. I was like YES! I'd hit a goldmine! All of her suggestions and ideas were 100% doable. This is exactly what I'd needed weeks ago. She had tiers of engagement for kids with different levels of access to the outdoors, and great suggestions on how to really meet kids and parents where they were in all of this and straightforward ways to get them engaged again."
Melissa and Luisa talked through a lesson on object classification that might be a good fit and then worked to modify it to meet Melissa's students needs.
Melissa gave students instructions (some during a call, others via parent email or text) to go outside and collect five natural objects. She then asked parents to take pictures of their child's collections and send them back to her, and she compiled them into a virtual book, which she used to discuss how items were the same or different during the next class call. Children unable to attend call got to share their insights separately during the writing portion of the exercise.
"When I first gave students the assignment, I had a couple drop off the call, and I was worried they'd gone to play Minecraft. But no, one ran out onto his balcony and collected a couple leave that had blown in, another went out into his yard to grab sticks and rocks. They were so excited to have something engaging and challenging to do, and they've really impressed me with what they can accomplish. One student collected five leaves, and I asked her what they had in common, expecting her to tell me they were green. She quickly informed me that they were all spikey, and I was delighted she'd picked up that vocabulary word. Next week we're going to expand on this activity with a version of Eye Spy using adjectives for clues on which item I've selected to be the mystery item."
"It's simple, low-tech, effective, and fun. I'm actually kind of sad that there's only a few weeks left to teach now. I will absolutely be using outdoor experiential learning next year, no matter what the educational environment looks like."
Out Teach salutes amazing teachers like Melissa who are working tirelessly to help students succeed through this difficult time. They're the ones on the frontlines ensuring that though schools are closed #EducationIsOpen.
Melissa was kind enough to share her thoughts about the program with us on a video chat the other day, and we're delighted she's getting so much out of our Professional Learning Program.