When he was a kid, Sean Splawski didn't like school. He didn't like sitting in desks, he didn't like filling out worksheets, and he struggled to learn and pay attention when teachers lectured for too long. Some called him "hyperactive." So it came as a surprise to those same people that at a very early age, Sean wanted to be a teacher. He was convinced that there had to be more active and engaging ways to teach and learn, and he was going to find them. And find them he did.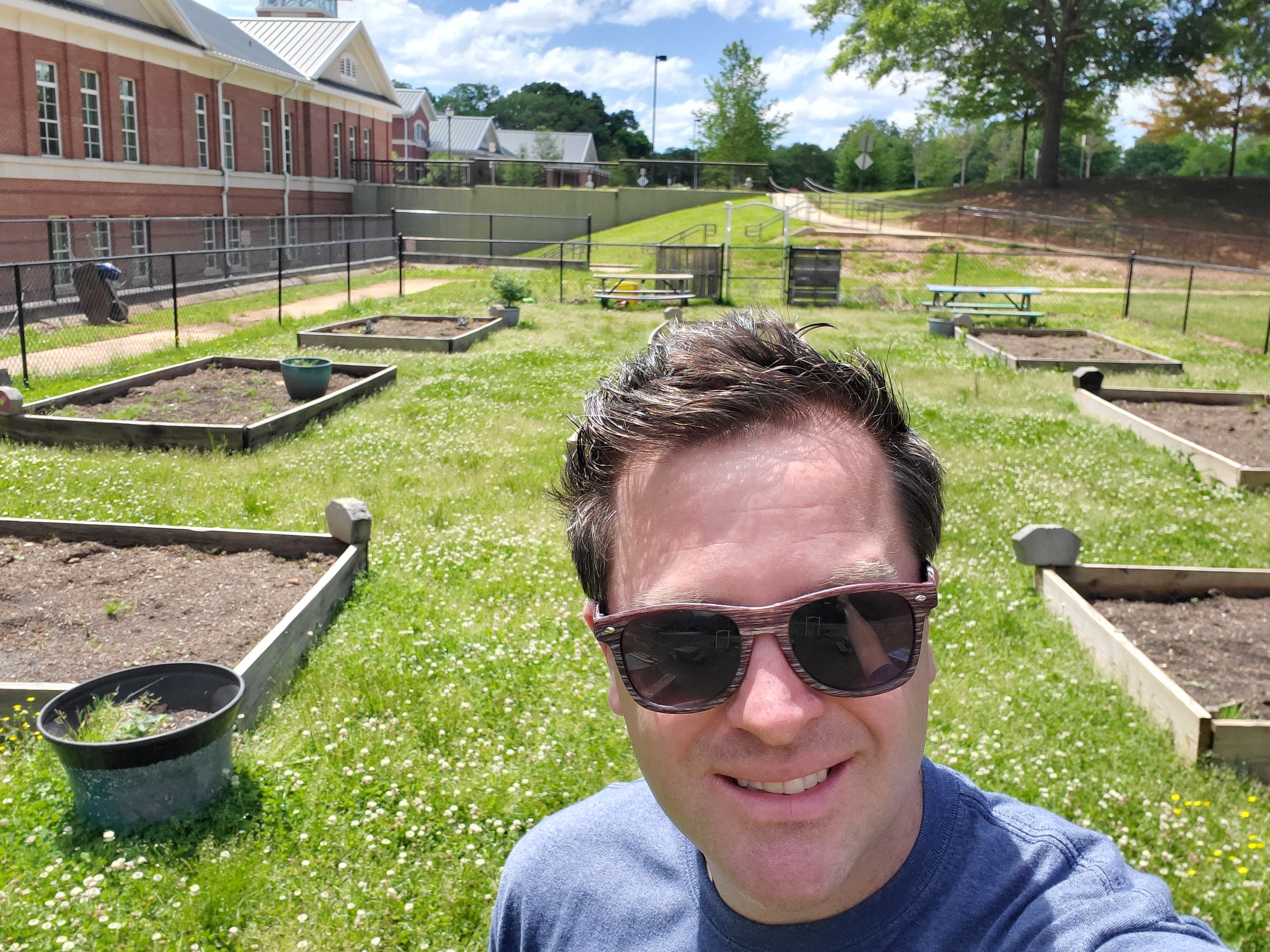 Sean now leads the STEM and STEAM instruction at Mableton Elementary in Cobb County, GA. Here, he works with all the different classes and grades to make sure they're getting strong science learning experiences at an early age.
With schools out because of COVID, Sean recently spent the day in the school's neglected learning garden. Sean had worked with teachers to create the beds five years ago, and uses it for exploration and instruction all the time. And this time would be no exception. While taking quick breaks from some heavy-duty weeding, Sean posted a series of videos to get Mableton student to observe and ask questions about what was happening in their school garden. Sean also encouraged students to get outside and do some explorations on their own. You can watch Sean in action here:
Sending students outdoors to learn isn't just because it's a change of scenery for students sheltering in place. Sean is a huge proponent of getting students outside to learn all through the school year. He sees many benefits to learning gardens and outdoor learning in general.
Outdoor learning supports student health — Many young children spend their entire day seated, and with gym and recess time disappearing from elementary schools, Sean wants to get students up and moving as much as possible. In addition to adding more physical activity to the regular school day, students love to move, and always enjoy Sean's lessons, which changes their entire attitude towards learning. Sean also got funding for a kids' kitchen at his school, and works with students to cook farm-to-table recipes. He lets the garden plan the menu. He sees what's ripe, and then researches recipes spotlighting those ingredients. Here are a few popular recipes he did this year.
Subject integration is easier in an outdoor environment – The world is not siloed into different subjects, so Sean finds that a lot more learning can get done in a short amount of time when he weaves Science, Math, and Language Arts together in an outdoor environment. In particular, he sees big gains with students who are simultaneously learning to speak English in addition to other subjects. In an immersive outdoor environment, there's much more context and information present, which students can use to learn and grow.
21st Century skill development – When students are doing more self-directed group work outdoors, Sean sees lots of organic 21st Century skill development. They're more likely to come up with creative solutions to problems, instead of looking to him for the answers. They communicate and collaborate well with one another, sharing and listening to information and ideas, and dividing up the work.
Inspire a passion for Science — Sean feels strongly that a love for Science comes not from books or videos, but from when students experience it for themselves. Students are excited to make their own observations and explorations, conduct their own experiments, and try and fail. Experiential learning outdoors helps students not only understand and appreciate science, it also gets them inspired to actively pursue science coursework and careers. Sean feels that the world is a big and exciting place, and the more time young students spend actively learning in it, the more likely they'll be to bring that passion and excitement to their work later on.
Student stay engaged — Sean says, "Students stay engaged in a structured outdoor learning environment that provides students opportunities to explore, dig, and of course move." In a focused, but less prescriptive learning environment, like a learning garden, Sean says he's always impressed at how well all students can stick to learning. By allowing students to move, and direct some of their own learning in an immersive environment, there's really no need for attention to wander. In a garden there's nothing boring about digging up worms, finding moldable clay, or picking fresh vegetables and cooking them.
More information about Sean:
You can follow Sean's work on twitter @scisean or on his YouTube Channel @scisean
Sean also leads professional learning sessions in a wide variety of Georgia state teaching conferences as well as locally within his school district.