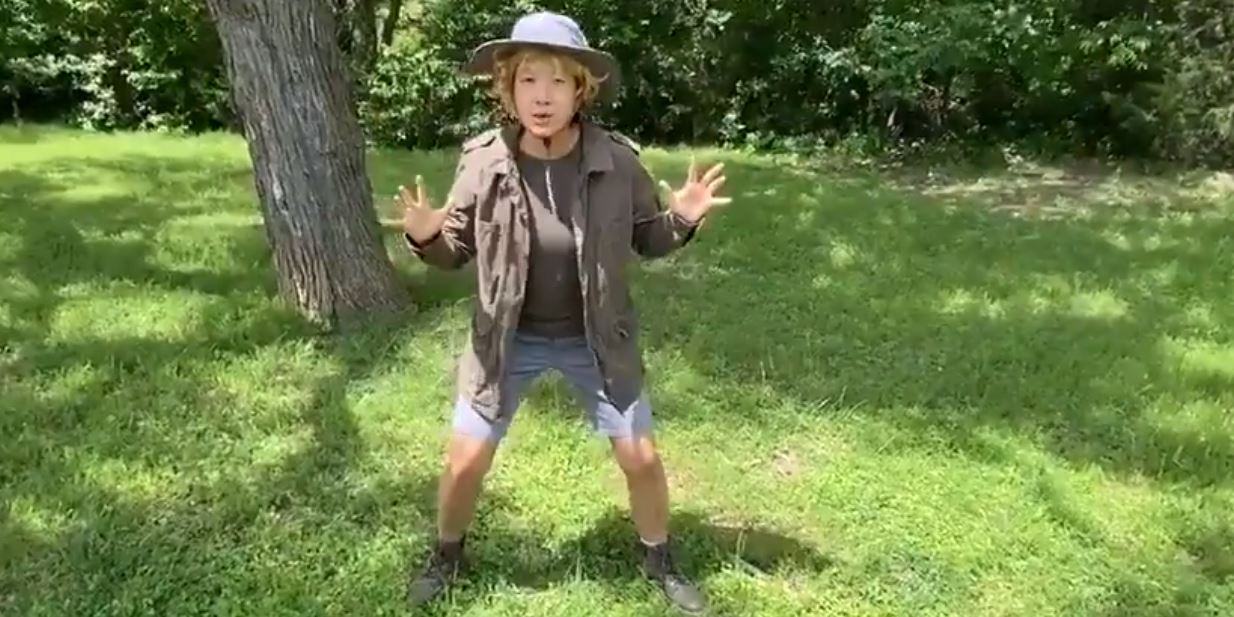 The teaching team at Denton Creek Elementary has always used their Outdoor Learning Lab, (nicknamed the Trailblazer Discovery Center) with spectacular results, and these days are no exception.
GT Intervention Specialist Martha Brown partnered with Out Teach to help launch the experiential outdoor learning program years ago, and the school has embraced it with gusto.  Martha loves it not only for the infinite opportunities for questioning for her GT students, but for EVERY student, regardless of their academic background. She says, "Because it's so immersive and engaging, outdoor learning has the power to meet each student where they are, and helps accelerate learning for everyone.  It's such a delight to watch things click for students when learning outside."
Earlier this school year, the school's outdoor learning program was going along like gangbusters.  Students theorized that the fairly mild winter and plenty of early spring rain helped their perennials thrive, and they were carefully charting the growth of their annual vegetables.   Additionally, the Friday morning gardening club was working to bring in different experts, and had already hosted a special session on composting.  Parent volunteers had created an interactive compression sandbox device to help teachers demonstrate different geological events with sand and soil.  The second half of the school year was looking bright.
But all that came to a screeching halt with COVID-19 school closures in March.  Determined to keep the learning going, the team started brainstorming how to include outdoor learning into remote instruction.
Martha started recording her visits to the outdoor classroom and asking the students questions about what they observed in the videos.  You can watch them here. DCE Garden Update Video  / Garden Update Video – Part 2.  She's also using twitter to engage students, asking them to use research tools to identify caterpillars, or make estimates on the heights of plants.
Teachers took the idea of outdoor learning opportunities a step further and started leading students on fun and silly virtual field trips. Ms. McKay took her students around the world with Steve Irwin, impersonating the late wildlife enthusiast with khaki shorts and a hilarious Australian accent.
Still more teachers donned funny costumes and special Zoom backdrops to take their students to visit animals around the world.
The students were delighted, and responded in kind with their own faux wildlife documentaries of stuffed animals playing out the roles of carnivores and herbivores in the food chain, or their own DIY craft shows on how to engineer effective bird feeders.
Teachers also worked to enrich family-time with academics, encouraging parents to take their children for walks and reinforce previous lessons on geometry, weather, life-cycles, and landforms while they were out. To extend the learning, instructional leaders came up with a series of "Choice Boards," where students at home are given a series of activities around a certain theme. Martha's were all outdoors of course, and invited students' families to join in the fun of exploration and observation.  Check out her Denton Creek Earth Day Choice Board.
Offline, the team also harvested and collected pounds and pounds of amazing produce the children planted earlier in the spring and donated it to local food banks. Staff took pictures of the garden's bounty and shared them with the whole community so the children could take pride in the results of their work, and have the experience of donating to those in need.  Martha says "In times of so much uncertainty, empowering students to be charitable really gives them a sense of optimism and control.  They look forward to seeing what they helped contribute."
Out Teach thanks all of the Trailblazers at Denton Creek for everything you do to ensure #EducationIsOpen for your students!