Instructional Coach Jarri Goodman shares what teachers have been experiencing during the pandemic, and how hands-on outdoor lessons can increase engagement and accelerate learning while keeping students and teachers safe.   You can also watch his video below.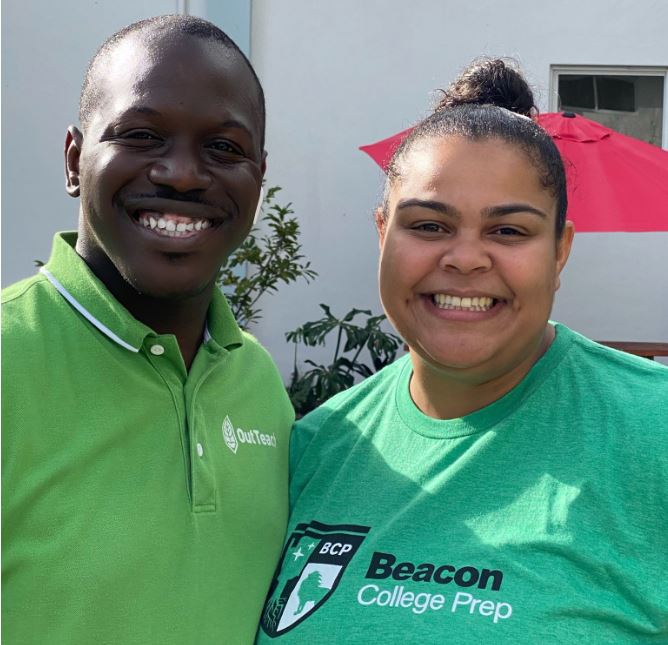 ——————–
Day after day this spring, call after call, Out Teach Instructional Coach Jarri Goodman heard firsthand what teachers and their students were going through.
"It was crushing. Teachers would just break down saying, 'Everything I knew how to do was suddenly wrong,' or 'I was struggling so hard to help my kids, but I felt so lost,' and 'I can't tell you how many times I cried.'"
"I joined them in the occasional cry at first. But then I reminded them, and myself, that We. Are. Teachers. We figure out how to do the practically impossible almost every day, so we can learn our way through this together."
Together with our teachers and their students, Jarri and all the Instructional Coaches at Out Teach transitioned all of our services to a virtual setting, where one by one, we helped teachers reframe the situation, reconsider their priorities, and reimagine teaching. And one by one, overwhelmed teachers realized they could harness their expertise, their passion, and their power to blaze new paths to ensure their students kept learning.
"One teacher admitted 'I am a control freak!' but then she saw how allowing students to struggle a little with hands-on outdoor projects got them more engaged in this new virtual setting. That was an eye-opener for her."
"Another teacher was so stressed his voice would shake. His lectures just wouldn't work in a remote environment. Later, he explained how confident he felt after restructuring his lessons to be more student-focused and experiential. This is what I love to hear! These are the teachers who can help their students thrive."
Now, these teachers are equipped and prepared, ready to help their students learn and achieve wherever they may be. By incorporating the outdoors and shifting to student-driven learning, these teachers can navigate changes beyond their control, and embrace practices that support student success in any environment.
"I wouldn't wish 2020 on anyone, but I am so proud of how far we've come together," Jarri said.
From teachers and students, from Jarri, and from Out Teach— Thank you for your support.
Your commitment to Out Teach today ensures that we can continue to inspire and empower teachers and their students through hands-on outdoor learning no matter what school looks like this year and beyond.