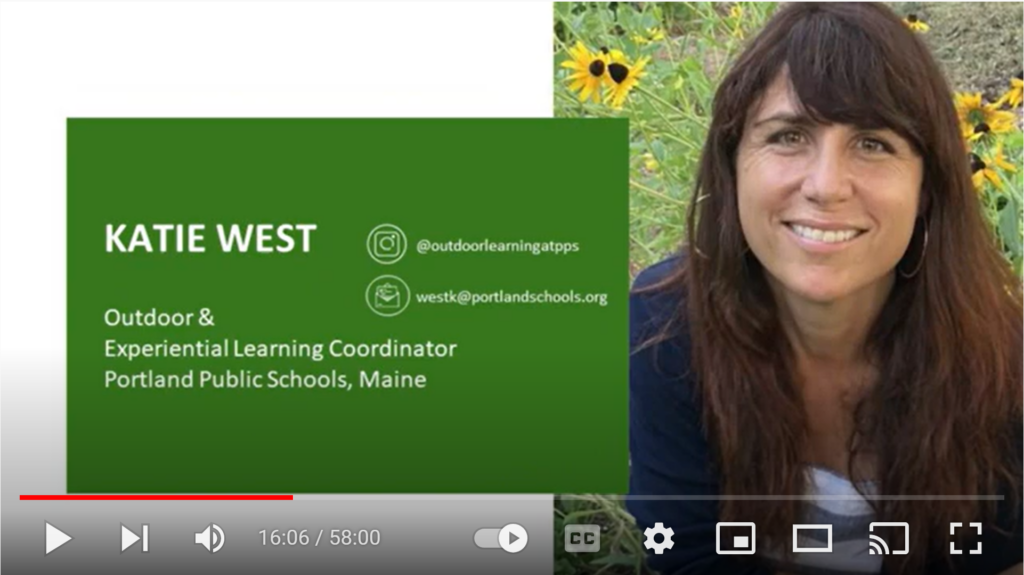 Thank you I'm so delighted to be here and with all these panelists that are helping to continue to extend this important work. I'm the outdoor experiential learning coordinator for the Portland Public School District and main serving 6,700 students in 17 school buildings, speaking more than 60 languages with 50% on free and reduced meal plans.

I have been teaching for over 20 years in various settings from wilderness expeditions to field experience and years in private and public classrooms, and for me, the throughline has always been bringing this type of learning to students of all backgrounds in all settings and by weaving it into the curriculum.
At the beginning of the 2020 school year, Portal Public Schools made a bold move and created outdoor classrooms using the first round of funding for outdoor learning tents snow pants blankets, and outdoor learning kits. When I heard the district was encouraging us to teach outside I really wondered if it would be possible to teach outside all year round, even in the cold weather in an urban public diverse multilingual school in the Northeast. With support from my school administrator, I shared that this was my intention with students, parents, and teachers. Not only did they welcome it, but they also appreciated it and loved it more as the year grew on.
In a year when so many students were experiencing feelings of isolation and separation, we were creating a community together outside and I know many people had this experience, in fact, when the students of one of our middle schools were pulled last year about continuing outdoor learning this year 95% of middle schoolers said yes.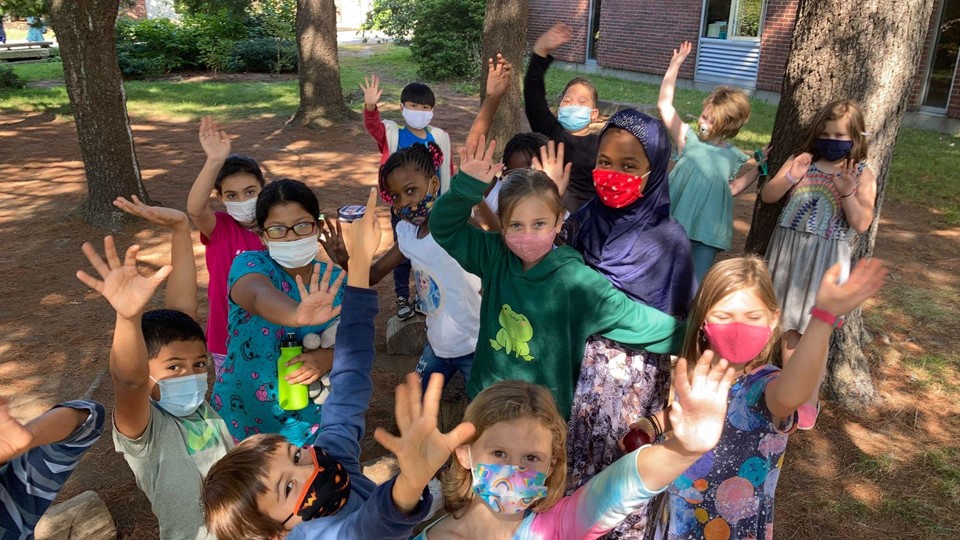 This photo here for me shows the joy that students and those of us who teach outside regularly know about how incredible the content connections that students make are and how numerous the SEL benefits are, and honestly, those who are not always leaders in the classroom often show up as real leaders when you're in the outdoors.
Since there are so many great resources for tips and tricks on how to manage classes outside I thought it would introduce the next level of what we were doing in Portland by integrating environmental literacy practices into our curriculum as they can really help serve as core routines for learning and teaching outside successfully.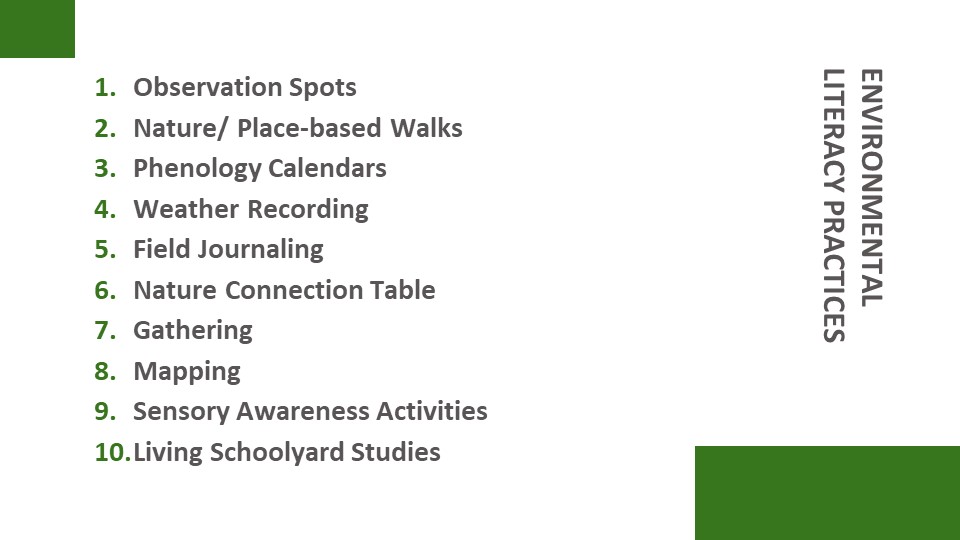 These practices, provide a simple and low barrier way to help students and teachers build a deeper relationship with the outdoors and are a great way for teachers to gain confidence in being outside for instructional time.
I find, too, that they help to bridge that idea of taking your indoor teaching outside and really learning how to integrate the outdoors into a standards-aligned curriculum.
They can also be woven into other moments, such as morning meeting time or going out to or coming back from recess or lunch, and while I am only going to talk about three of them, you can use this list as research and learn more about these important building blocks.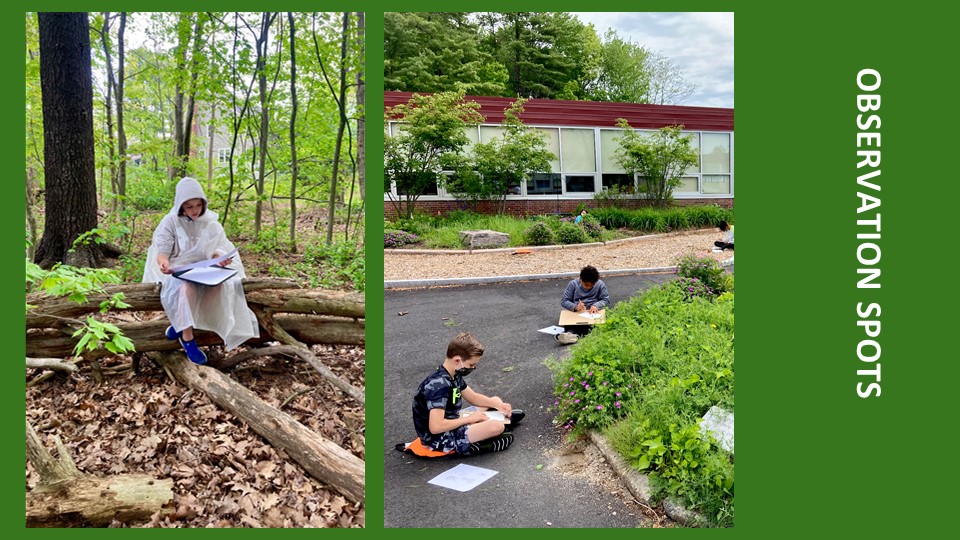 One of the regular ways that I start class outside is with a brief observation spot activity. These spots are also called sit spots in our place that a student visits regularly throughout the seasons of the school year. And if you do these consistently students grow to love them and they take great ownership of their spot. This is important, especially if a student does not otherwise have a place that is theirs and their life. Or if they have been uprooted from a place that they loved it begins to reconnect them to a sense of place, and as you'll see here, it can be done on the blacktop or anywhere in the schoolyard simply being outside there is so much to observe.
This practice really helps students, also to switch their idea of being outside only as recreation and playtime and begin to build it into a relationship with the world around them and learning time.

I want to make two notes here that, while it may look like on the left, that we have lots of woods, I can assure you that these are urban schools and some of them have a very narrow wooded area, as you can see the houses in the background on the schoolyard perimeter.
I share that because outdoor learning can be done in any setting with some brainstorming of how to do it best in your location.
Finally, this year with another round of ESSER funds we are purchasing small gear libraries for all elementary schools, along with gear sheds sleds to transport gear outside, picnic tables, and outdoor wi-fi for middle and high school.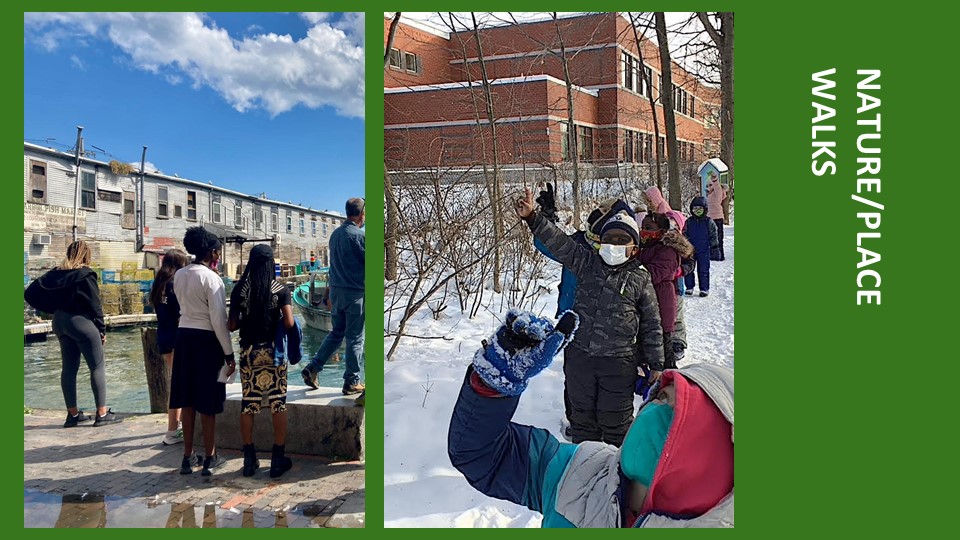 Next our nature and play spacewalks and they offer they are great for students and teachers alike. They can be tailored to whatever you have at your location,
Next are nature and place-based walks and they offer they are great for students and teachers alike. They can be tailored to whatever you have at your location, not only do they benefit students by connecting them to place and place to the curriculum, but it provides a much-needed physical movement break for students.
The high school students on the left have a campus with very little to no green space, so this is a field ecology class and they use the city as their classroom.
They've walked the 10 minutes to the Portland harbor to study its history, and on the right, these kindergartners are taking their daily walk and are observing birds and the trees, and this is something I really appreciate that even the most urban schoolyard has birds that students can connect with and study outside.
Later in the presentation, you'll see an image of an off-road wheelchair we use for our nature and play spacewalks and that's another possible use of funding really to help make sure that outdoor practices are inclusive for all abilities.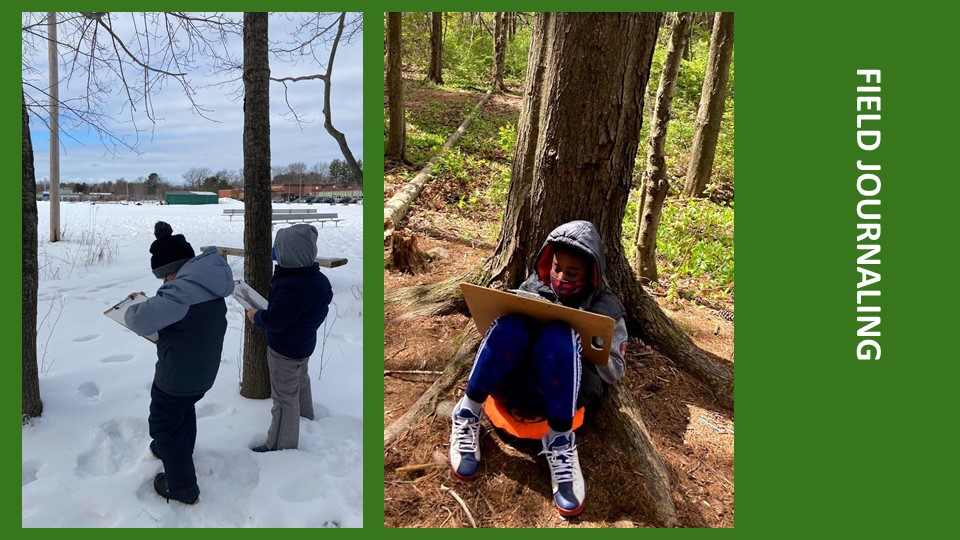 The last environmental literacy practice I'm going to introduce is field journals. These can be designed and scaffolded for pre-K-12 grade students for different content areas in different formats so I've used them for art, science, human geography, and place-based studies.
What I think makes these practices so valuable is how much a teacher or school can integrate them into what their curriculum needs are so that it's not an extra thing, but a practice that is woven into the existing curriculum.
On the left, you'll see two young boys who are working on a tree study in the snow. And on the right, you'll see there's a group of fifth-graders and they're in a multi-week exploration of scientific observational drawing of plants and birds. In this lesson, I combined three of the above practices as students' worked towards a culminating activity of spending 35-40 minutes by themselves at observation spots after a walking field trip working in their field journals. I cannot tell you how empowered they felt about being able to do this activity, and it offered equitable opportunities to explore nature for students who may not feel comfortable doing that, out of school and I can't emphasize enough how much school-based outdoor experiences can have a meaningful impact towards equity and the outdoors.
One of my unexpected learnings came last year from a young man who was nine years old, and we were in a narrow slice of was off the soccer field, and we were gathering some natural materials for art. When we got to the part of the woods that had tall grass he called my name and this alone was notable as he had not spoken for the first three weeks of school. He asked me if there were snakes here and held out his hands really wide I could tell he was very concerned. And since he was one of my ELL students, I wanted to make sure he knew he was safe. So I shared that there were only small snakes without venom in these woods. His shoulders relaxed immediately and for the first time, he began to talk to me telling me of a dangerous day that he and his brother had met a large venomous snake in the country he was from. After he shared this, I shared more about the nature of this landscape and the type of animals that live in it. He relaxed even more and pretty soon was one of my chattiest and most SMILEY students in the class that day.
That experience left an important impression of how the outdoors can be a place of building trust and community among students and teachers and how it can be a place of helping a student move from trauma while feeling safe and connected, which can really deepen their overall learning.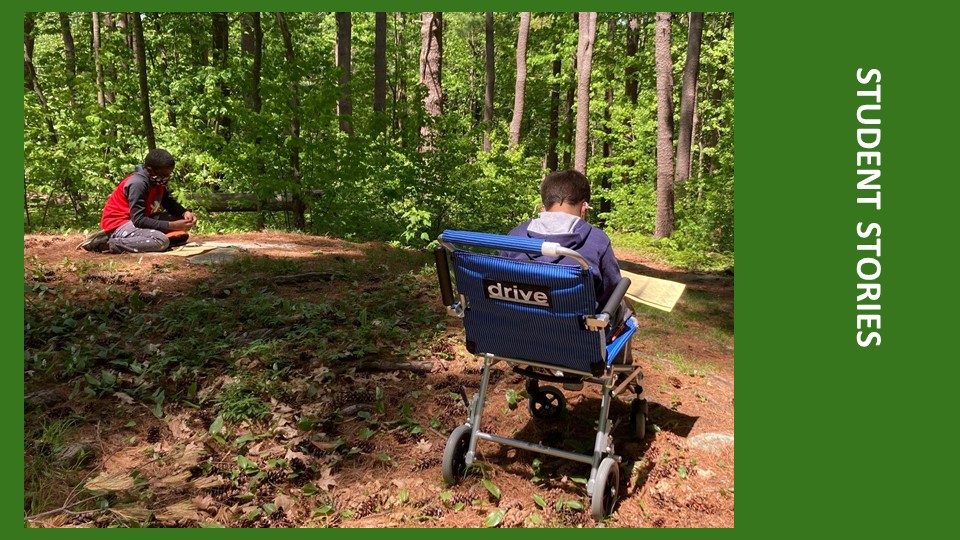 Here's the photo I mentioned before, I want to briefly share with a student who had mobility issues and trauma around rainy weather when we started going outside. He was terrified often saying that he felt like it was going to rain when it was on clearly a sunny day and, in time, he began to trust that I knew about the weather. And I started to share with him what I knew and my process for choosing when and where to be outside. Within weeks, he was the one teaching other students saying all that he had learned about the weather, it was a phenomenal transformation.
The last story that I want to share is about a pre-K teacher who teaches at a site in the city with minimal outdoor space having astroturf and a wrought iron fence in very close proximity to the building. After a PD I did for pre-K teachers, he was inspired to take his students on a ten-minute walk to a city park, and this is what he wrote me the next day.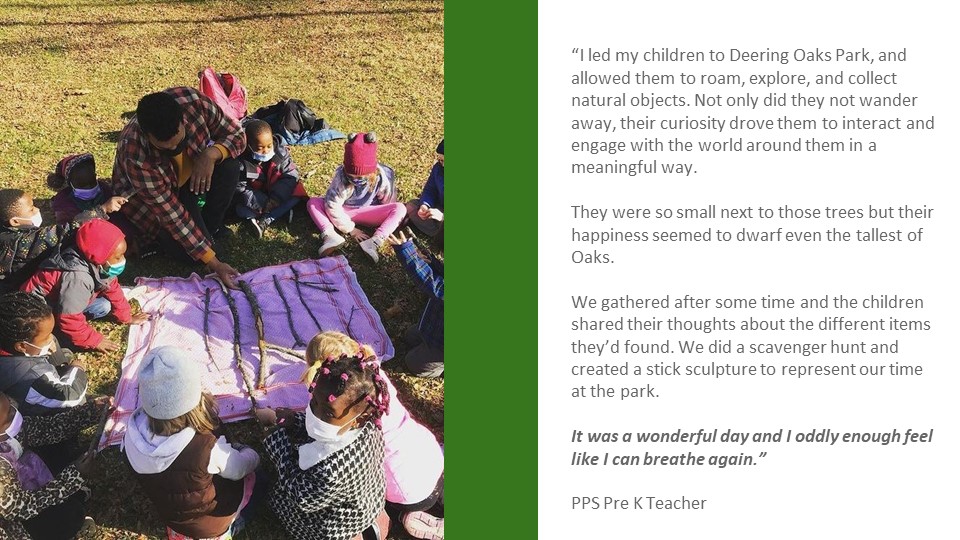 I can't stress enough that we talked about how good outdoor learning is for students but, in my experience, it is also good for teachers and teacher well-being which, as we all know, is really important, in this time.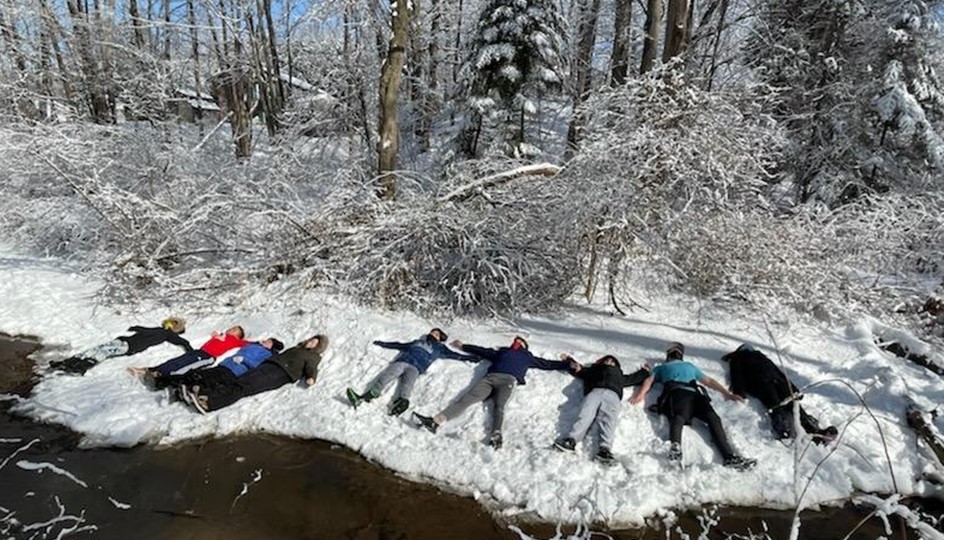 The last photo I just had to include as a testament that it is possible to teach outside year-round in various settings with all students. The students have been outside every day this year with their nature-based art teacher, and clearly, they are comfortable and enjoying themselves I'm so grateful to be here today and to everyone who was helping to encourage this kind of learning for students all around the US. Thanks for your work and inspiration.