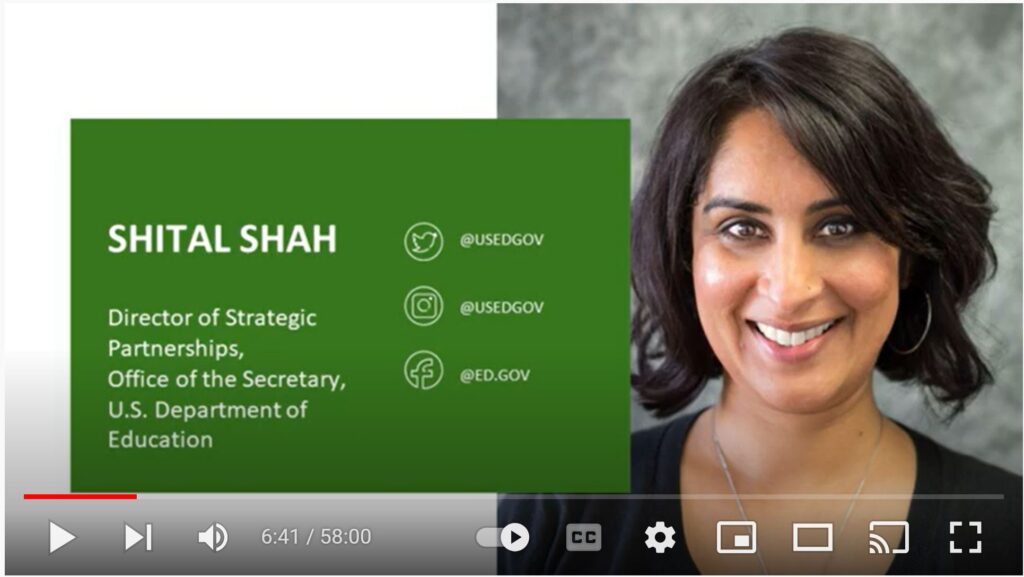 The Department of ED is excited to join this webinar, along with all of the educators and schools and community based organizations so excited to have you all here to learn and share, about the importance of outdoor learning, and share sort of your expertise on how you're helping to get your students learning more outdoors and being engaged.
Over the past two years, we all know and have felt deeply how schools and communities have struggled under these extraordinary circumstances during that time governmental agencies nonprofit organizations.
And nonprofit organizations have initiated policies and funding to support innovative ideas to help schools, teachers and students overcome these challenges. One silver lining of the pandemic is that it has increased an interest in outdoor learning. Initially schools were extremely interested in health and safety benefits, but more and more, are now discovering that beyond teaching outdoors when teachers really use the outdoors to enhance their instruction outdoor spaces, have the power to accelerate learning for students from all backgrounds.
The Department of Education relies on state education agencies to support outdoor learning initiatives and encourages the use of the American Rescue Plan funding or ESSER funds to support this outdoor learning in our schools.
These funds are designed to address the loss of learning instructional time through increased engagement what could be more engaging than an active outdoor learning space. I'm so excited that you've joined us to learn more about how this outdoor learning environment can be invited be a vital educational tool for students of all background, and to be completely candid also help support their mental health needs, as well as we're hearing more and more parents and educators and communities are extremely concerned and searching for ways to really enhance the support inside and out of school so it's also, in addition to that have really great way to get more science into the elementary school day.
With so many STEM careers out there, we need to get all students excited about real world science early on and outdoor learning makes that possible without taking time away from literacy and math.
Outdoor learning as possible at all grade levels in both public and private schools, in urban, rural suburban locations and moving outdoors is feasible in all climates across the US, although I don't know that I'd want to be outdoors too long in below zero degree weather, but I will be up for it.
Thank you for inviting us and also for taking the first step to accelerating learning for your students outdoors.
From the Department of Education to teachers and districts across the country everyone on this call is ready to support you, as you work to accelerate outdoor learning.